VISANG invited Thai education officials to our headquarters on May 22nd to learn about and test our STEM education programs, digital education system, and ICS system. On the same day, we signed a Memorandum of Understanding (MOU) with the International Association for the Future STEM Workforce (IAFSW).
Thai education officials expressed considerable interest in our and Korea's digital education programs by actively engaging and exchanging questions when our services were demonstrated. We secured an opportunity to provide our ICS system and educational programs such as Challenge, Math Alive, and ELiF to local government levels in 11 Southeast Asian nations through the MOU with IAFSW.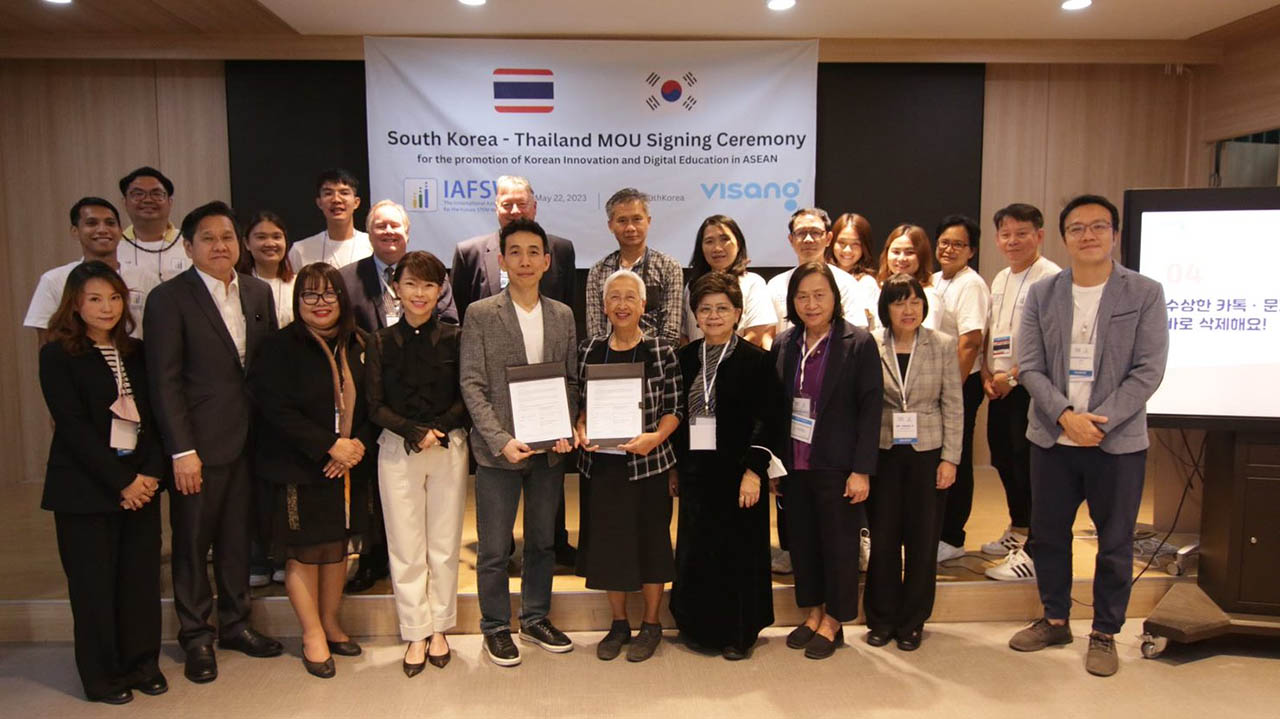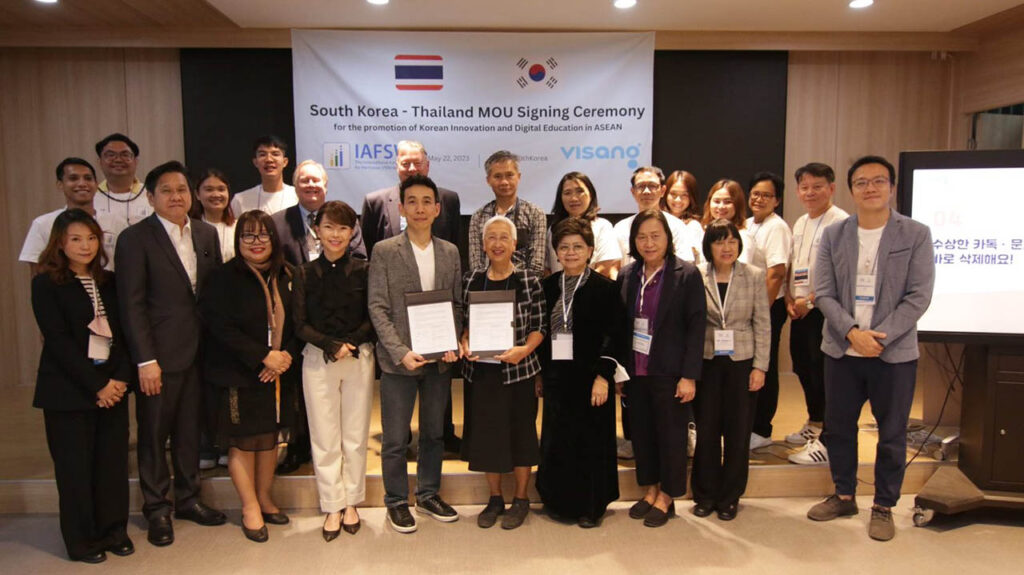 Inviting the executives, educators, and employees from IAFSW, TEDET, and EduPARK to Visang Education
There were 31 people in attendance, including officials and personnel from IAFSW, TEDET, and EduPARK, including the President and Vice President of IAFSW, the Academic Director of TEDET for Education Foundation, and the CEO of EduPARK.
The mathematics and science educators at TEDET, in particular, had opportunity to try our Challenge, Math Alive, and ELiF programs before their own classroom instruction. They explored how each program appears on the screens of teachers and students and tested the programs from the perspective of their students. Each instructor received a certificate for their participation in our edtech teacher training and knowledge transfer event.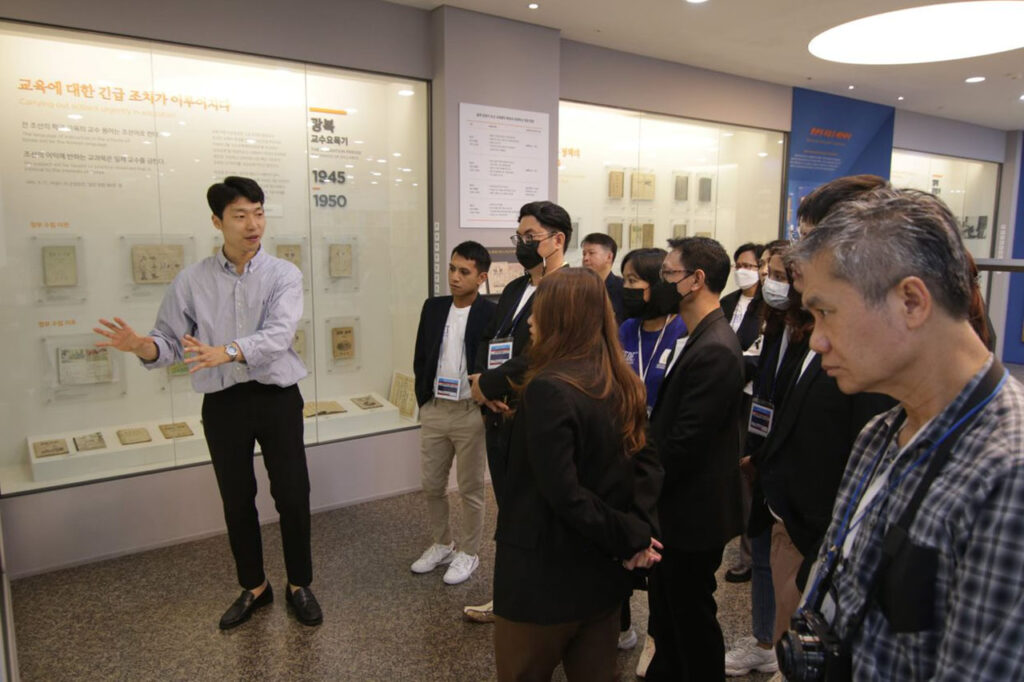 Demonstrating Visang's solutions
Following a tour of VISANG's headquarters covering the history of Korean education, the participants got a firsthand look at Challenge, Math Alive, and ELIF's math, English, and science courses.
They began by playing Math Alive's "Break Apart Two Addends to Add" and "Math in Ancient Egypt" contents, gaining insights on how to efficiently provide tailored education to children by solving fascinating arithmetic problems that correspond to the levels of elementary school students.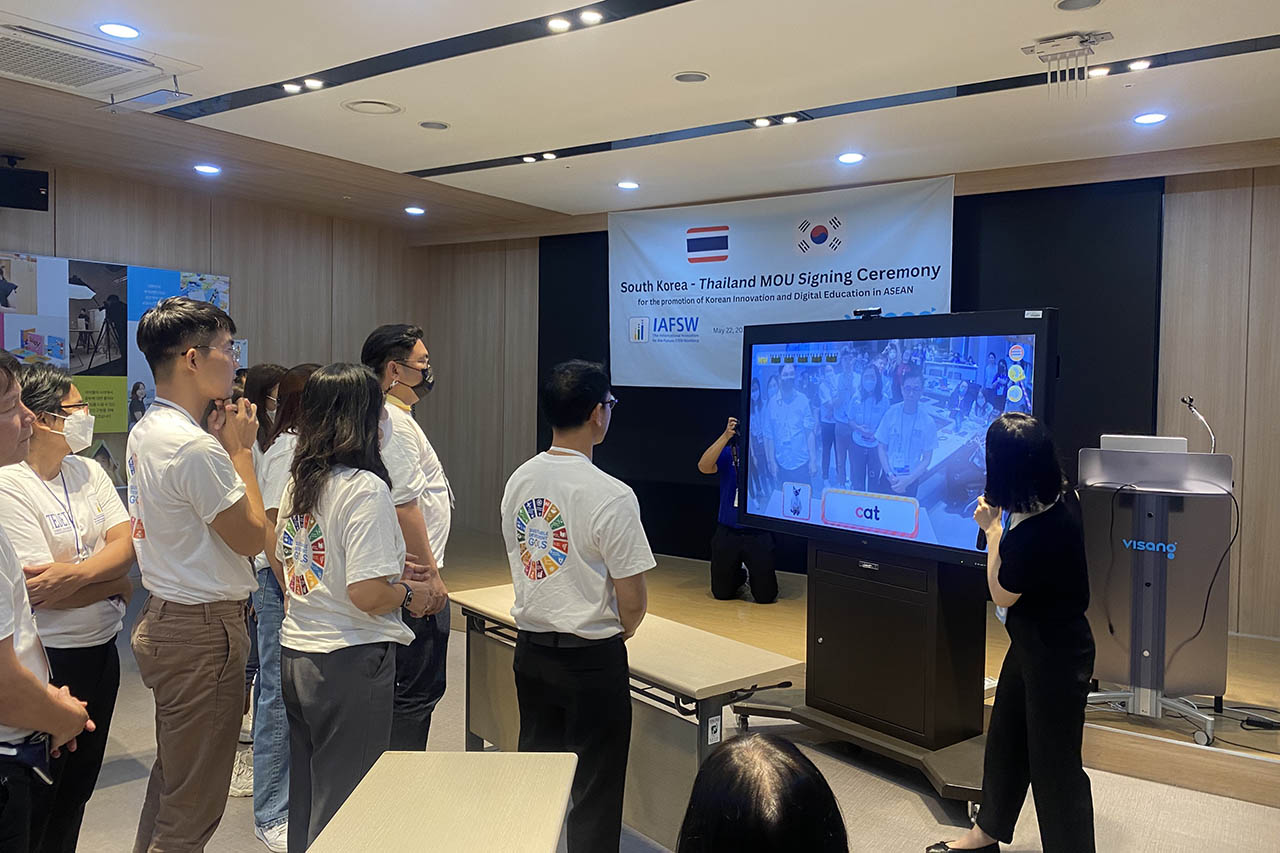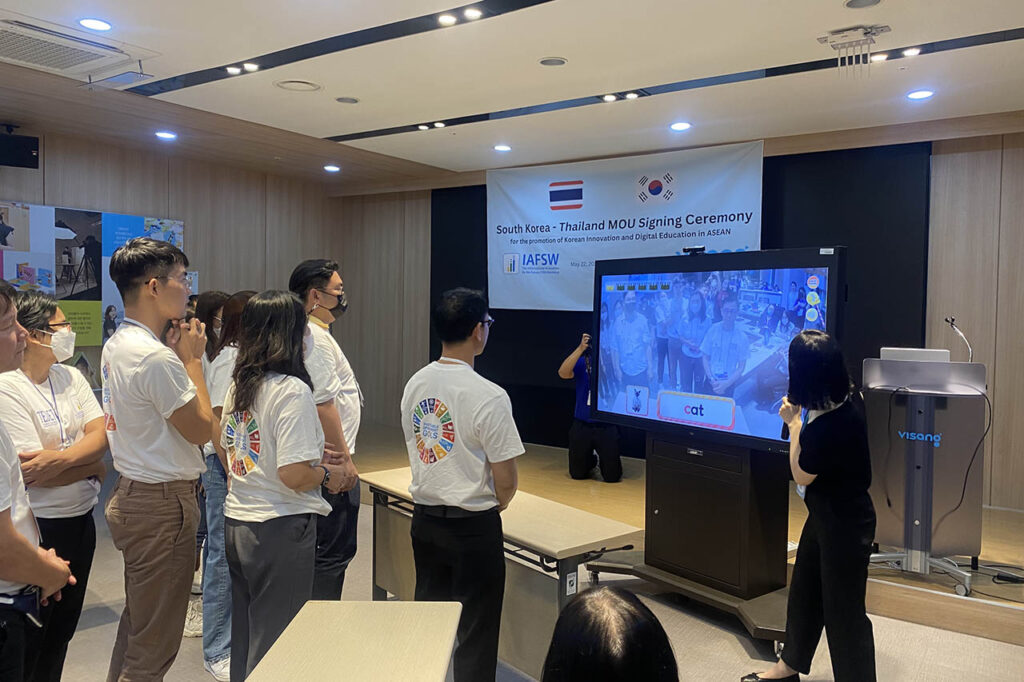 Similarly, the English content of ELiF, an elementary school program, enabled students to transmit their English pronunciation recordings to the teacher via their own tablets.
ELiF's science content was particularly relevant for the elementary school curriculum, as it taught about tadpole metamorphosis.
Following that, everyone actively participated and communicated using the Challenge program, which is aimed at preschool students, by playing games that involved tapping alphabets displayed on the screen.
Purpose and content of Visang x IAFSW MOU
After the introduction of each of VISANG digital education program was the MOU signing ceremony.
Thanks to the MOU and the collaboration with IAFSW, VISANG will be exporting digital education services to ASEAN countries and acquire opportunities to adapt STEM education and curriculum, as well as educational technology, from Korea to Thailand.
We agreed to collaborate to promote STEM education and related services in Thailand and ASEAN, as well as to assist education in those regions through our mathematics and English programs and digital education services.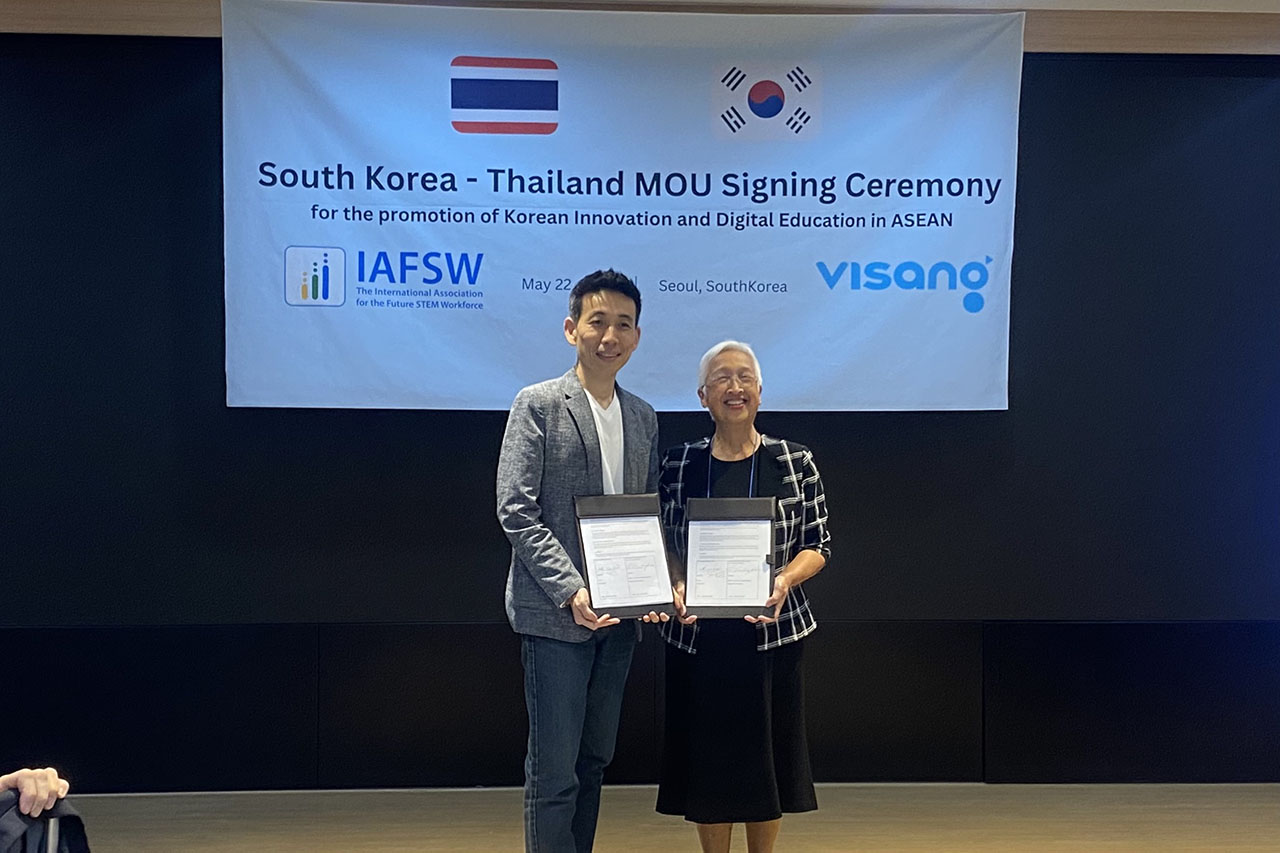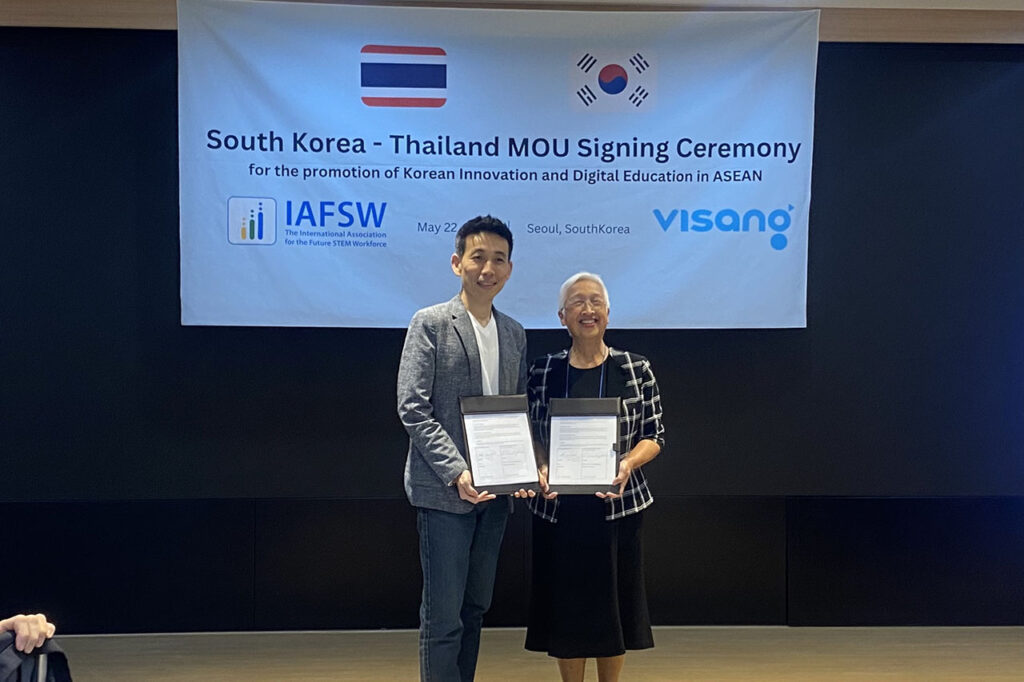 Visang's future objectives
We will promote Korea's STEM education, educational technology, and curriculum in 11 Southeast Asian countries, building on the Chonburi Pilot Program, which has been running through EduPARK since early this year.
Simultaneously, we will equip Thai teachers with digital education guidelines and assist Thai students in improving their learning experiences.
Get ready for our next breakthroughs in the Southeast Asian education market!