AllviA is a smart learning platform with 25 years of experience in the educational industry. Our members remember the time that VISANG made the transition to a global EdTech company. We were not on the road to success from the start; however, we have been gradually growing by listening to the voices of consumers. Please follow us if you are looking for a reliable EdTech company for the long term.
Opportunity of smart learning market
Why VISANG EDUCATION combined digital education with the traditional one.
After the release of the iPad, the world began to pay attention to tablet PCs. In June 2011, the Korean government announced the 'Smart Education Promotion Strategy', which was to convert paper textbooks to digital textbooks by 2015 on the smart pad. It was a large-scale project worth 2,228.1 billion won over 5 years, including the distribution of smart devices to all teachers within the period. The academic achievement evaluation was changed to be taken through the Internet.
Prior to that, in the early summer of 2010, VISANG EDUCATION was convinced that the development of technology would change the learning environment. Once education in school becomes familiar with technology, other educational environments tend to be digitized as many people create and sell their contents on the open market. VISANG EDUCATION changed the instructor's unilateral teaching method and contents to be more qualitative. The recognition of the problem in the one-sided education method, which was just delivering lecture videos, was a great opportunity to move toward smart education.
What was the first thing we started to do before building a smart VISANG EDUCATION?
At the time, VISANG EDUCATION carried out business with activities based on paper books. However, as the era progressed, we had to accept new things, such as being familiar with technology, planning ability, distribution channels, and methods.
However, it was difficult to launch a business into the smart learning market due to the absence of IT capabilities in the company. There was an attempt at a tablet-based PC-based content business partnership once, however, we faced a high entrance barrier where we could not get out of the level of supplying our products in digital form.
First, we developed IT capabilities technically implemented with VISANG EDUCATION's digital imagination, and launched VISANG ESL by taking over ESL Edu, which was the leading company renowned for digital textbooks and content specialists at the time. VISANG EUDCATION started developing self-directed English contents that combines listening, speaking, reading, and writing.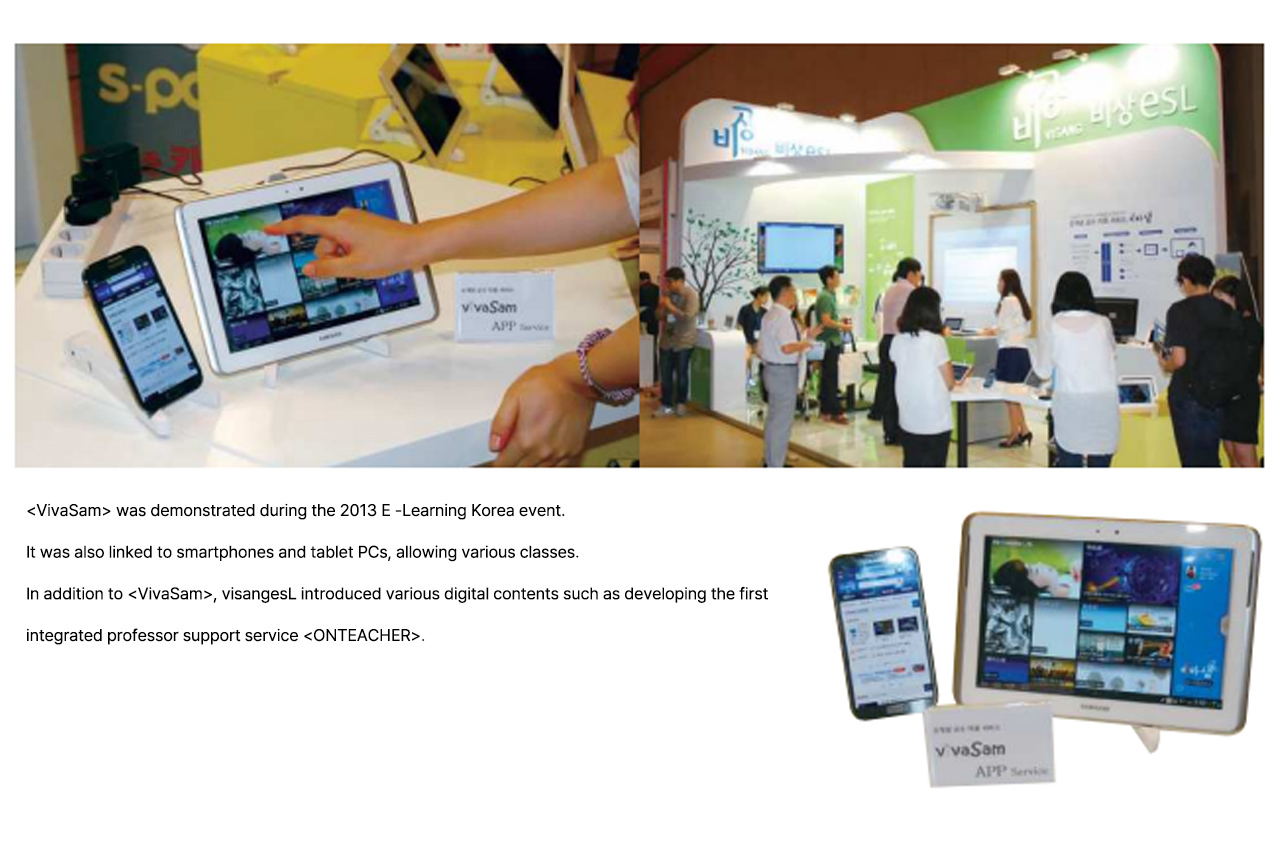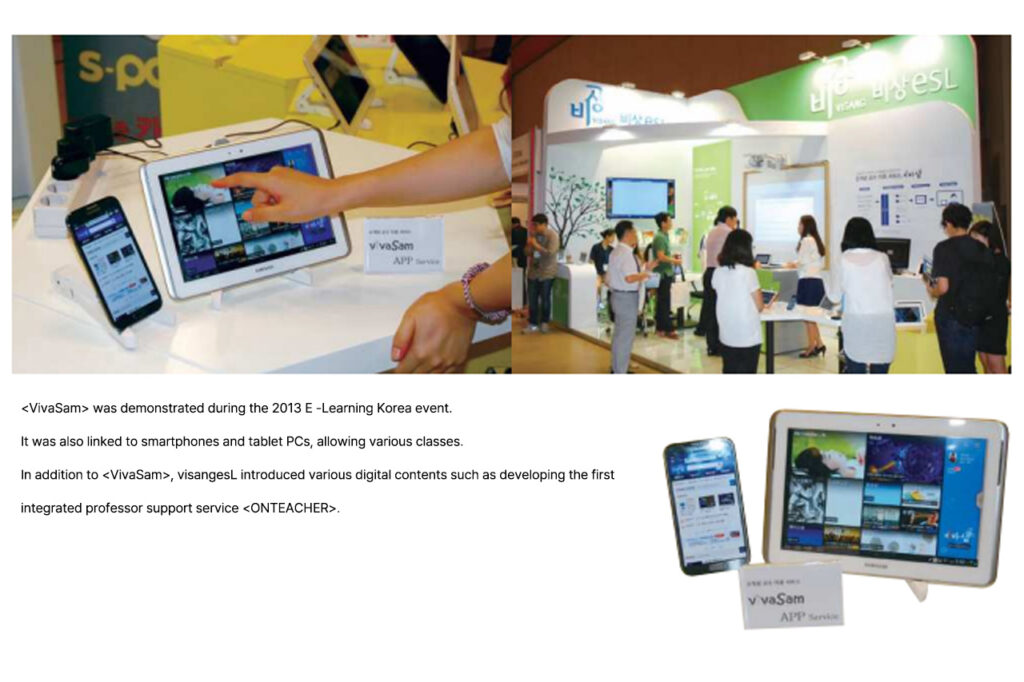 However, the majority of the businesses were focused on building cloud-based infrastructure and distributing information devices on campus, which was not an easy business to break through barriers in the digital education market. VISANG EDUCATION was convinced that content development would be the core business in the smart learning market. At first, we released <Vivasam> smart learning platform and <On Teacher> an integrated educator support service, which were officially opened in February 2013.
Smart learning solution with VISANG EUDCATION
What products have started to attract attention in the smart learning market in earnest?
Implementing an English project on a smart learning platform was the second task of VISANG ESL. As a result, the interactive smart learning platform <TReE> embodied with a 3-view platform on a student tablet PC, teacher PC, and electronic board, was released. This accommodates sharing and accumulating learning outcomes, which assists self-directed learning. Consequently, we received an enthusiastic response when we finished our first demonstration in 2014.
However, a major challenge remained in that it could not meet the needs of English education content developers due to heavy and inefficient platforms and low technical stability. It was true that the platform just remained a creative experiment, although it pioneered the realization of smart learning itself.
After that, there was an attempt to evolve from <TReE>, which was trapped in prejudice, to a completed platform. Technical stability was secured by changing the inconvenient and inefficient 3-view method to a 2-view method, ensuring entertainment content harmonized with IT-based solutions properly. The <TReE> met the character PaoPao with speech content, and finally <Wings> was born.
What was the threat of becoming a smart learning platform?
Some people say, 'The history of VISANG EDUCATION is divided into before and after <englisheye>. There were a few challenges during the development; however, VISANG EDUCATION gained valuable experience while overcoming them.
<englisheye> began by filming the daily lives of native English speakers. We tried to capture New Zealand national parks, back alleys in San Francisco, and beaches in Hawaii on a small tablet PC, which was an unprecedented project and arduous work due to an unpredictable environment. We tried to recruit local teenage actors to shoot for the immersion effect of the learning material, but it was difficult due to the strict child protection law in the United States.
Nevertheless, about 1,400 video contents and numerous animations were gathered, which was the result of everyone's hard work. After the video production was over, we took the time again to create a student-led learning system. Since everything was a first attempt, the process of trial and error was inevitable. After a year of solving technical problems and stabilizing the service, VISANG EDUCATION's smart learning solutions were born with its philosophy and technological advancement.
Smart learning by VISANG EDUCATION, leaping into the world
What was the response of the global market to VISANG's smart learning products after the release of <englisheye>?
Despite these difficulties, englisheye has implemented a self-directed learning system based on VISANG EDUCATION philosophy and IT technology. After watching the on-site video through the tablet PC, the students were able to review words and sentences that they had not heard well. They raised their learning capabilities by reviewing and repeating the video again. This is a unique and smart solution in that the student takes the lead and the teacher provides the coaching.
In June 2016, we improved usability and system accessibility by launching a mobile application. In August of the same year, we also released a game park function equipped with a game function, which enables you to learn vocabulary and sentences through game competitions with other learners.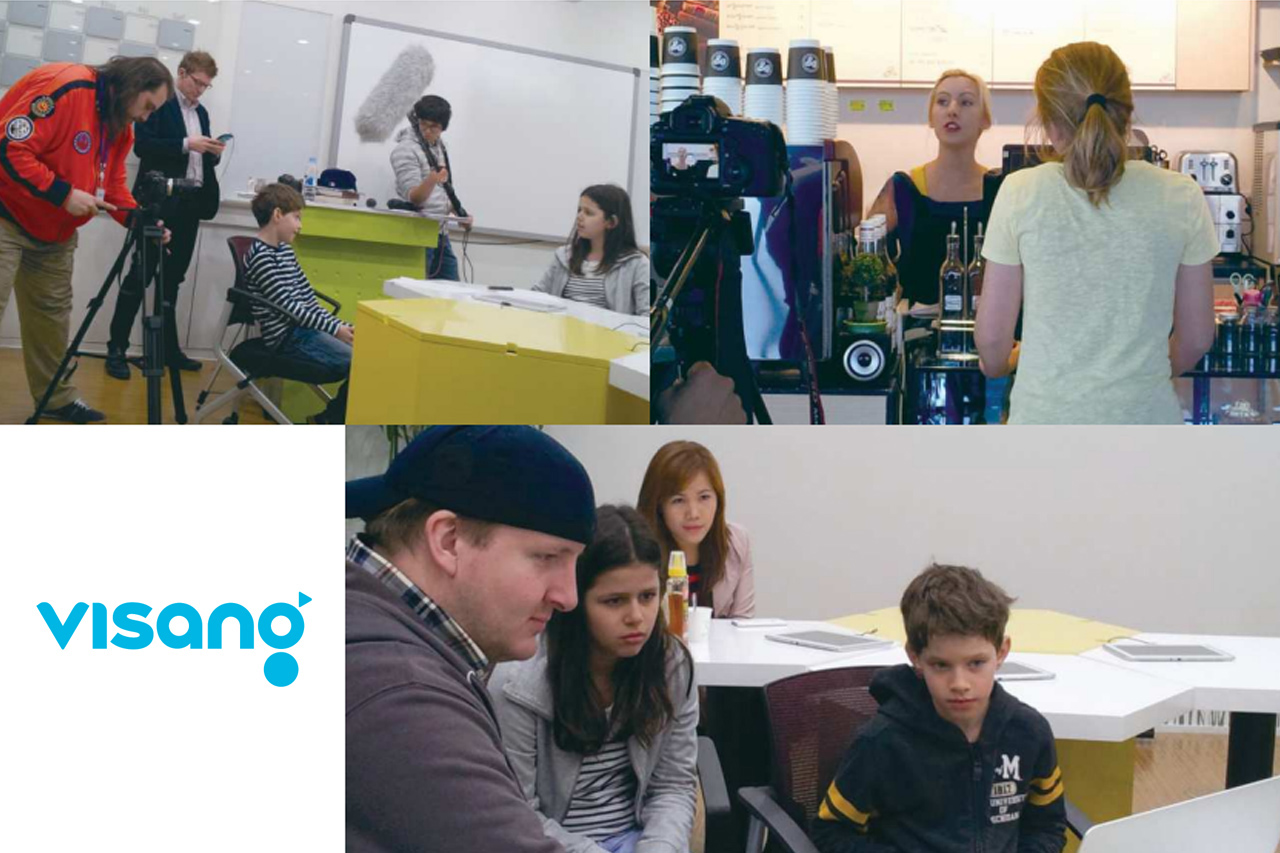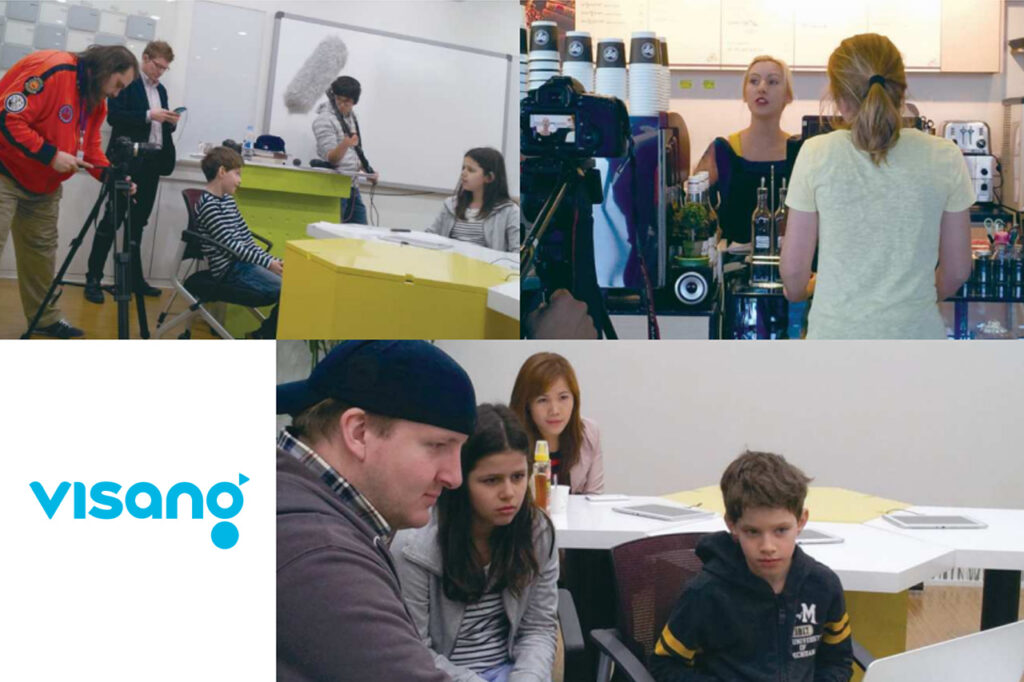 Accordingly, englisheye showed a tremendous growth trend with enthusiastic responses while other franchise education businesses struggled. It reached its 100th store in 3 months, and in January 2018, the business achieved its 900th affiliated store. It won the Global Special Award at the 14th eLearning awards held in Japan. China was fascinated by the charm of englisheye and signed an export contract with Time Joy, an English education company for children. englisheye has been renowned as a good business item in China to pioneer and lead new markets in which the concept of self-directed learning is still unfamiliar.
What was a unique experience during the <englisheye> business?
Interest in englisheye went beyond Asia and was also great in South America, North America, and Canada. We signed a contract with Canadian Aboriginal tribes for an Aboriginal language preservation project in April 2018, which was one of the heritage preservation initiatives carried out by the Canadian government. VISANG EDUCATION signed a contract with Canada's indigenous tribes, 'We Wai Kai Nation' and 'Wei Wai Kum Nation', for an Aboriginal language preservation project. Besides, we partnered with two aboriginal tribes, representing 1,976 people of the 640 existing tribes in Canada.
With this opportunity, the indigenous language was installed through englisheye and the FEL4.0 solution, a language acquisition program of VISANG EDUCATION. We directly recorded and filmed aboriginal languages to supply the program, then combined aboriginal languages with a variety of sources we reserved. It will serve as an opportunity to preserve and develop not only the indigenous languages of Canada, but also minority languages around the world.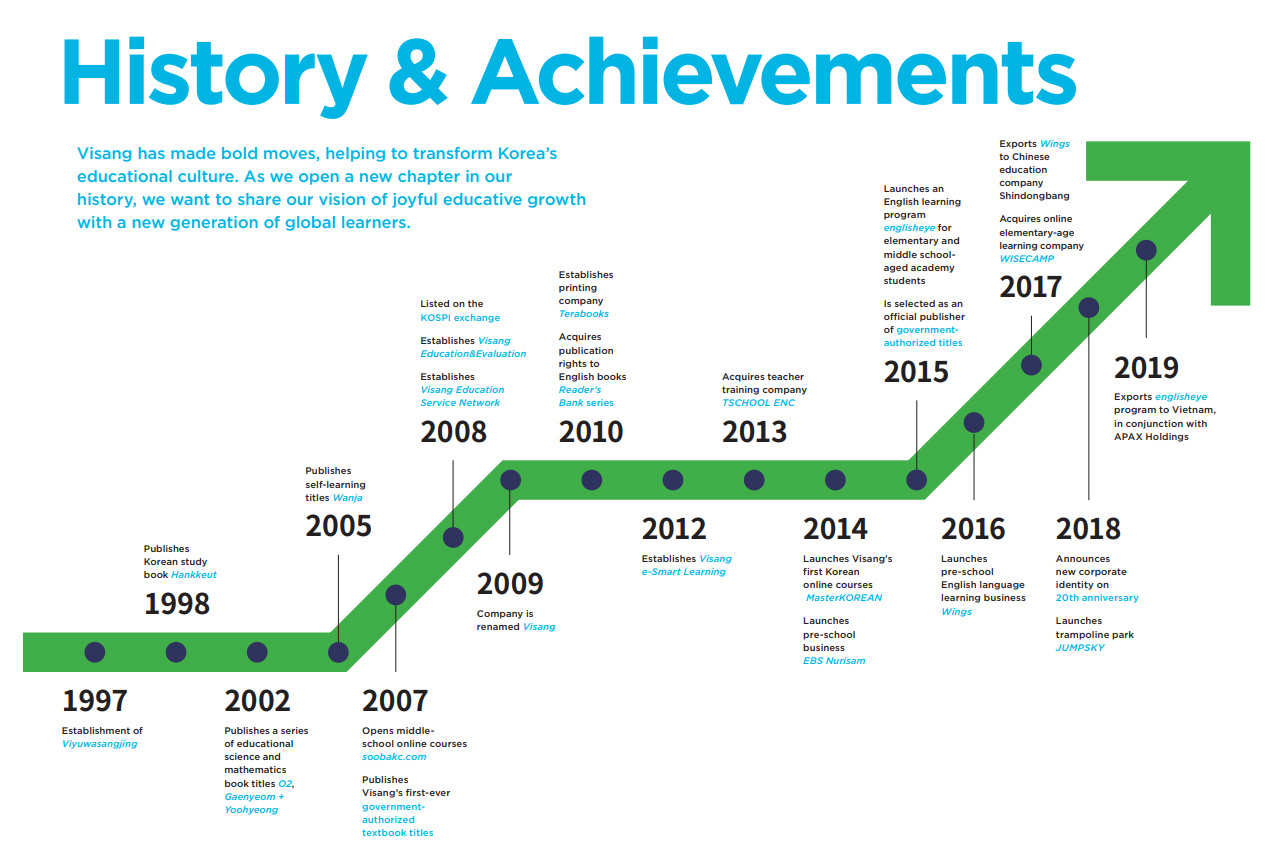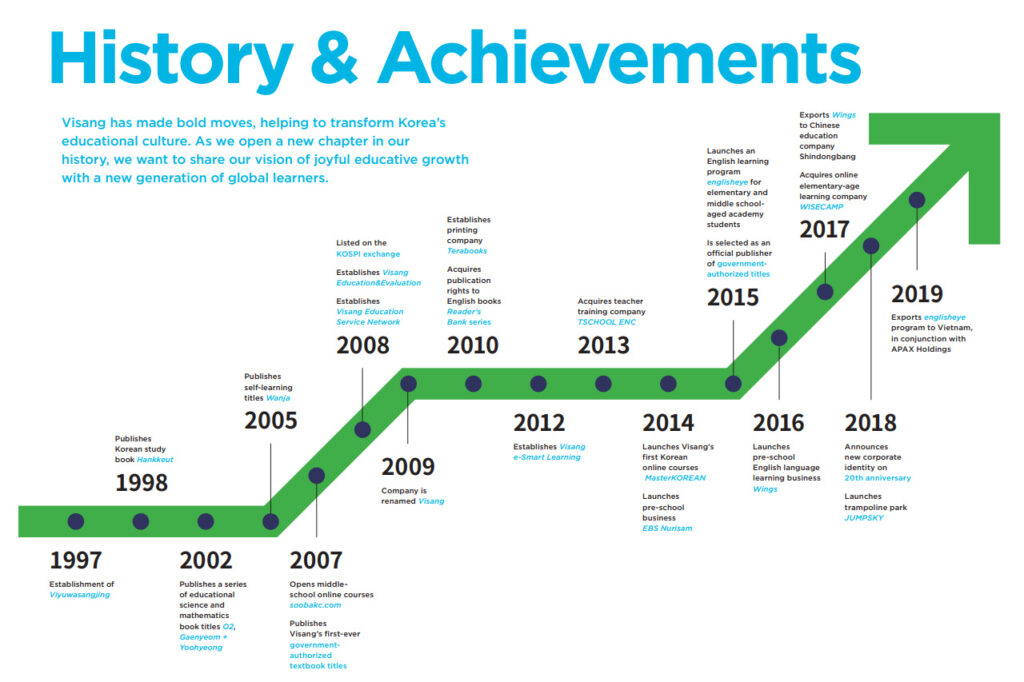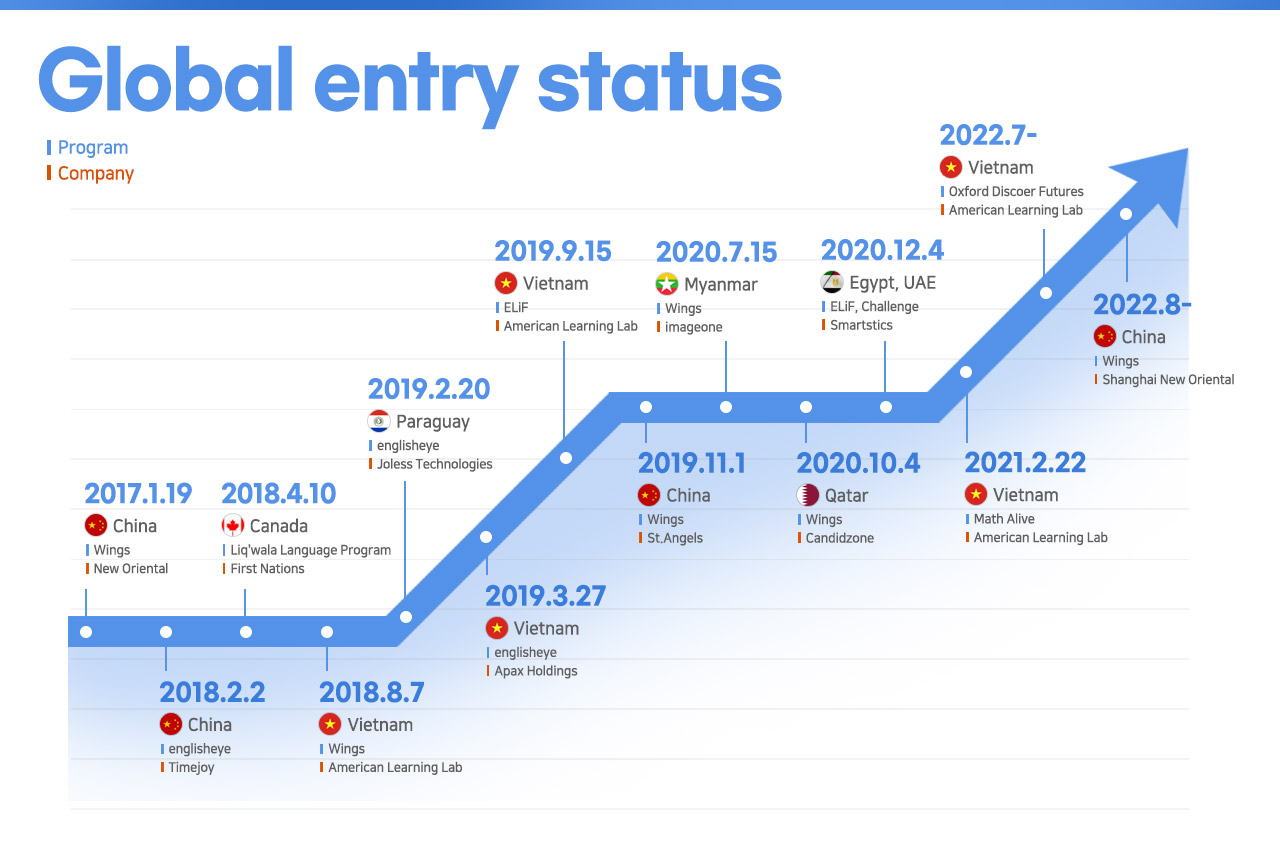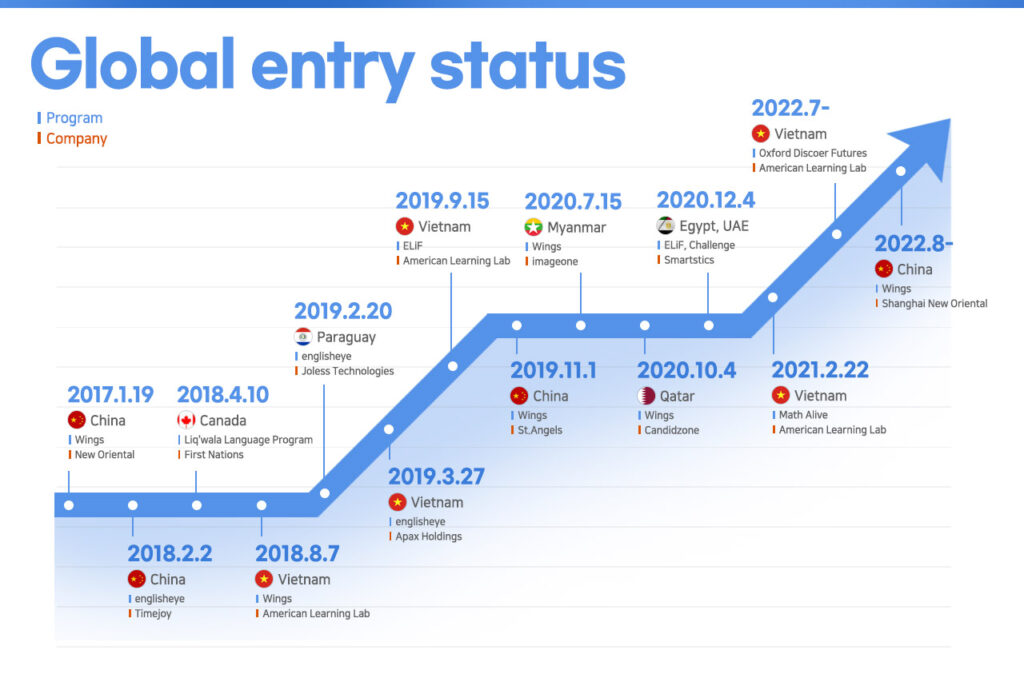 VISANG EDUCATION leading the smart learning market
After <englisheye> and <Wings>, various solutions have been developed. Please tell us about the future of the smart learning platform that VISANG EDUCATION is aiming for.
Everything is a valuable resource for VISANG EDUCATION that will lead the smart learning market, including: Wings, an interactive English program learning like play, ELiF, an interactive English learning program learning in a future classroom environment, MATHALIVE, an EdTech math learning program that maximizes mathematical communication skills; Oxford Discover Futures, an interactive English education program using Oxford content; Live English Academy; and englisheye. AllviA is the classroom of the future, where everyone participates in interactive lessons. These solutions, which reflect the needs of teachers and parents in the field, are designed for children around the world to learn with high-quality content.
VISANG EDUCATION exists to contribute to the happy experience and growth of everyone by creating a new model of education culture with extraordinary imagination and innovation. In addition, VISANG EDUCATION has presented a new paradigm of educational culture with its ingenuity. We have followed the principle of pioneering new markets by listening to the voices of the field.
AllviA is a Korean smart education platform created by VISANG EDUCATION. We believe we are a valuable partner who will lead the Korean educational wave with a complete and high quality educational contents.