Earlier this year we took part in the International Book Fair in Bogota and have since collaborated with Colombia to combat educational inequity. Our English language program "englisheye" has been running pilot lessons in schools in Tunja and Bogota since March of this year.
On May 15th, we invited the secretary of education from Bogota City, Colombia, as well as her deputy, along with the secretary of education from Tunja City, Colombia, to our headquarters for a special event.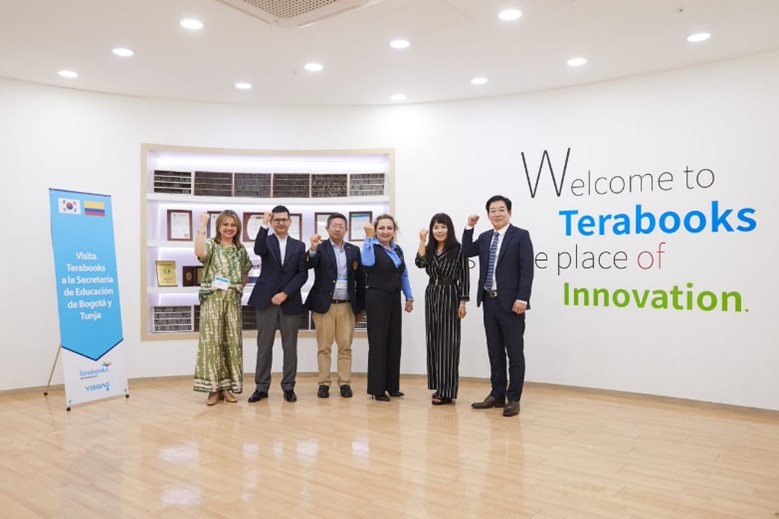 The guests visited our headquarters, englisheye academy, and ELiF academy in Suwon, Gyeonggi-do, respectively, on the 15th to see how courses are conducted. To better understand the textbook printing process and the state of public education in Korea, they also paid visits to Terabooks in Paju, Sangmyung University Elementary School, and the Incheon Metropolitan City Office of Education from June 16th to June 18th.
The Bogota and Tunja education secretaries discussed Colombia's overall digital foreign language education policy during this tour, with a particular emphasis on the two cities, and shared opinions after class demonstrations on how to extend the use of our edtech programs in Colombia.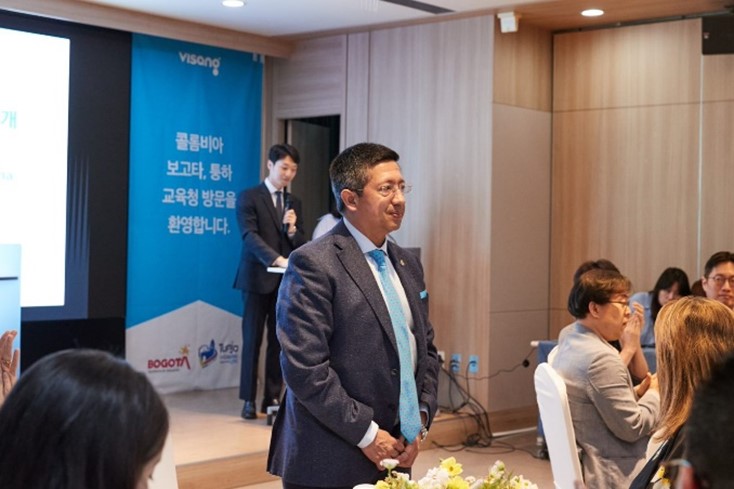 Inviting the Colombian education secretaries and representatives of Bogota and Tunja
The occasion was attended by the secretary of education of Bogota, Edna Christina Bonilla Seba, her deputy, Andres Mauricio Castillo Barrera, and the secretary of education of Tunja, Jose Moreno.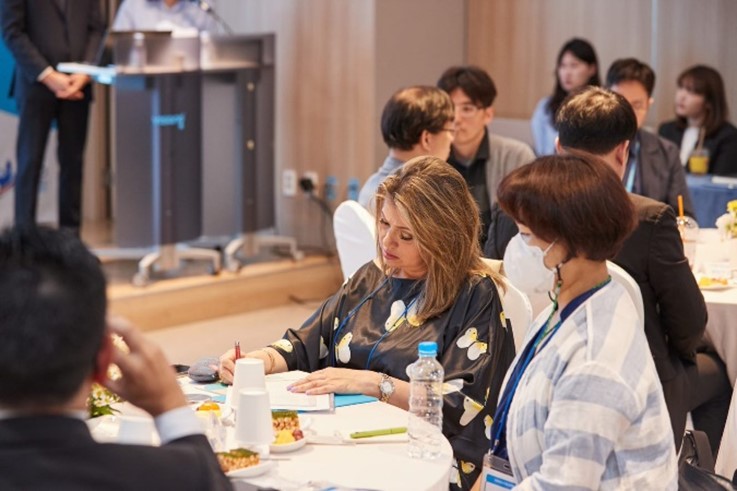 Special visit and event at our headquarters
On the 15th, the attendees gathered and took part in a special welcome ceremony at our headquarters.
Before presenting their speeches, they first learned about our company, the current state of the englisheye business, and the regulations governing digital foreign language education. They then went on a tour of our metacognitive learning program Only1, our hybrid digital convergence textbooks, and workbooks before posing for group photos. As we described and demonstrated each of our programs and textbooks, the guests exchanged many questions and showed a great deal of interest.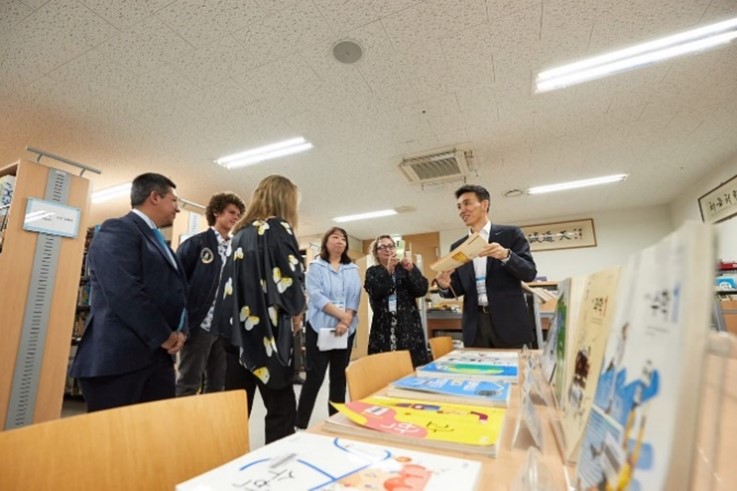 The visitors also had a meeting with Yang Tae Hoe, CEO of VISANG Education, and took tours of the textbook design research center and the textbook history museum within our headquarters to learn more about how our educational offerings have evolved over time.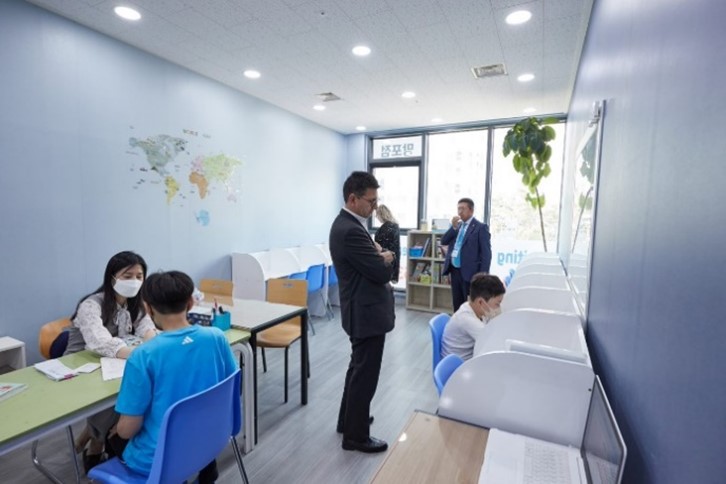 Visiting englisheye academy and ELiF academy sites
To examine how the programs are implemented in actual classrooms, the guests also went to englisheye academy and ELiF academy, both of which are located in Suwon, Gyeonggi-do.
Using tablet PCs, englisheye offers interactive education with a variety of materials. In class, the teacher checks to see whether the students have completed their tablet activities and textbooks after the students finish their individual lectures on their tablet PCs. The teacher then provides additional feedback on the students' understanding of the material. Through this method, the students obtain the ability to self-direct their own learning in a setting where the students can fully concentrate.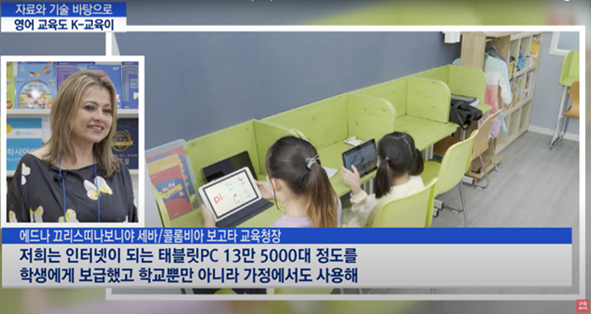 The secretary of education of Tunja, Jose Moreno, stated, "Having been impressed with englisheye's history and dynamic approach to empowering children to participate actively in their education, I chose englisheye." He went on to say, "It is clear from observation that children not only interact with teachers, but also engage in self-directed learning, which is truly admirable. This method promises organic acquisition of foreign languages."
"We have successfully distributed approximately 135,000 tablet PCs with internet connectivity to students in the city," said Edna Christina Bonilla Seba, the secretary of education of Bogota. "We go outside the classroom to encourage children to study English as a second language in the comfort of their own homes," she added.
The visitors explored the ELiF academy as well. ELiF offers educational opportunities using tablet PCs and electronic whiteboards. Based on rich multimedia content including local dialogue videos and animation videos, it enhances students' immersion in education. To start, in-class activities are completed depending on each student's tablet-based pre-class learning results. The students then review their course material through quizzes and games after class.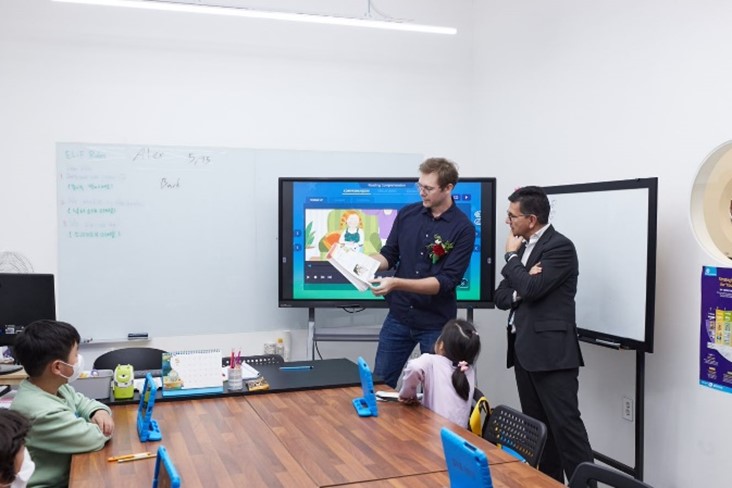 Upcoming goals
After visiting various digital education program learning sites during this visitation event, Bogota City decided to push for further consultations with us to extend the current englisheye pilot program. The recognition of our digital education programs in foreign markets that have overcome difficulties with labor and cost restraints, is moving globalization forward.