With the expansion of the EdTech market, the education field has made great progress. There are now plenty of services and educational contents in the existing market; however, an increasing amount of investments in quality improvements and the security of educational platforms have also been flowing into the market at the same time. Are you interested in learning about 'the potential of the EdTech market?' Please find out the success factors and growth potential of EdTech in this article.
EdTech market size and growth potential
Current EdTech Market Size
EdTech is a combination of education and technology, meaning various technologies are utilized in education. The global EdTech market size is estimated to be approximately $105.3 billion in 2019. It is expected to reach about $342.2 billion in 2025, and the compound annual growth rate (CAGR) from 2020 to 2025 is expected to reach about 17.3%.
The size of the EdTech industry varies by region and country. Among them, North America and the Asia-Pacific region are being spotlighted as lucrative marketplaces. Europe, Latin America, and the Middle East have also shown significant growth in the size of the EdTech industry.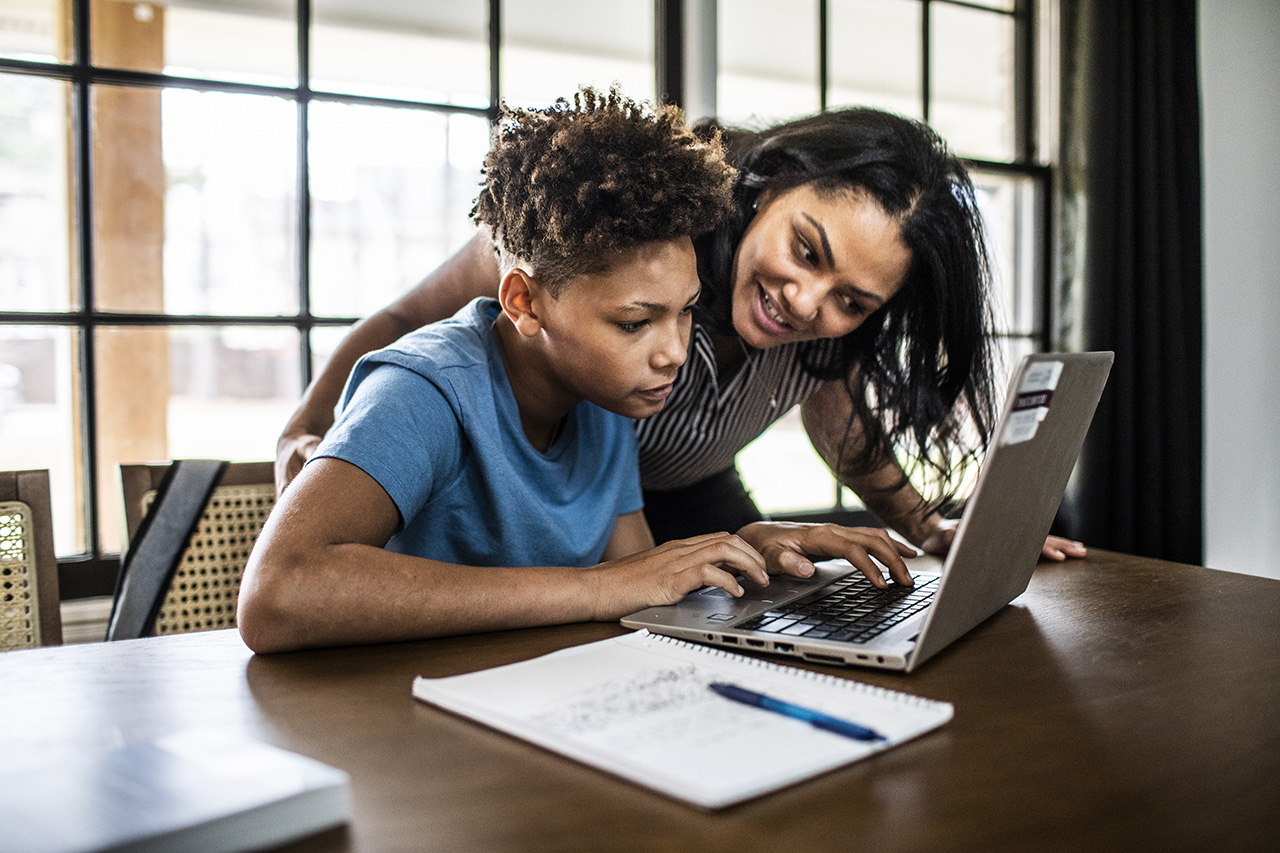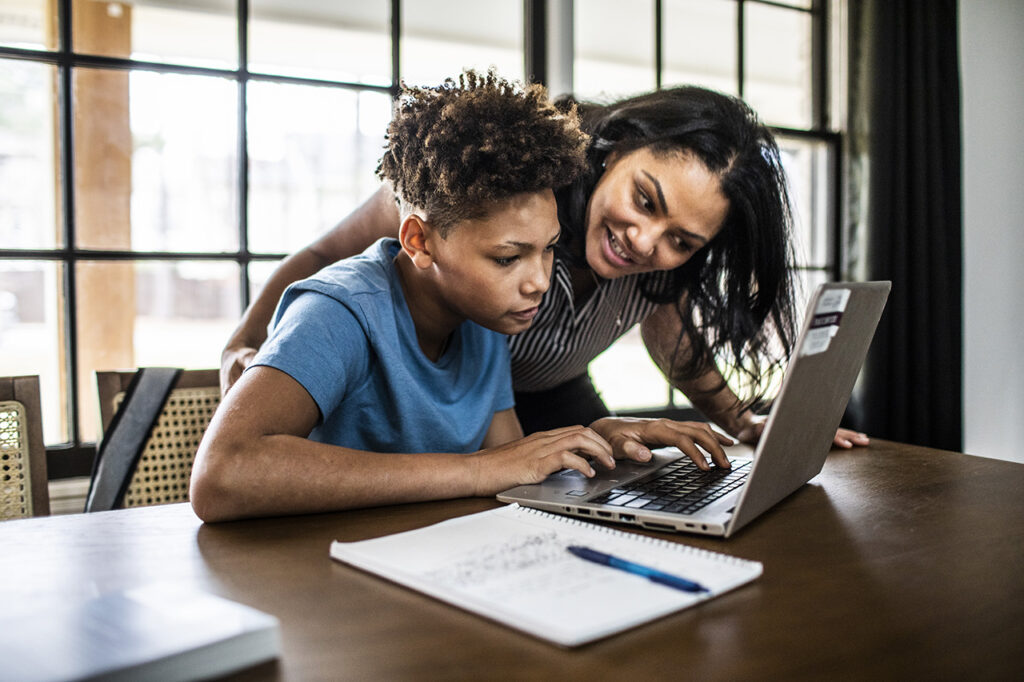 Trends and Growth engines of the EdTech market
Key trends and implications for the EdTech market include:
Demand for online education has skyrocketed due to the COVID-19 pandemic, and various EdTech services and platforms were launched to accommodate it. Personalized learning services using technologies such as AI, VR/AR, and big data have sparked interest.
The EdTech market has influenced education with its quality and style, as well as its accessibility and fairness to learners. In other words, digital technologies expand opportunities for learners from diverse backgrounds, including low-income and vulnerable groups, to interact and collaborate and provide high-quality educational materials through their accessibility.
The EdTech market requires government and business support and cooperation. At this point, the government should strengthen regulation and financial support for the growing EdTech industry and promote partnerships between educational institutions and EdTech companies. Besides, EdTech companies have to ensure the quality and safety of their services through platforms that protect user data and privacy, complying with ethical standards.
Why do experts believe the EdTech market will continue to grow?
EdTech solutions have received attention in that they provide personalized and adaptive forms of learning tools, considering individual needs and learning styles. This is effective for learners to participate in the learning process based on personalized contents and assessments from relevant data analytics, AI, machine learning, and more.
The EdTech industry has been developing with rapid technological advancement in the integration of educational contents, including virtual reality (VR) or augmented reality (AR) and gamification of learning. Consumer satisfaction is especially high because it brings new and immersive learning experiences.
There has been a growing interest in digital learning due to prevalent internet use. In addition, the governments of a few countries are actively encouraging the adoption of EdTech solutions to facilitate such effective education. In other words, the EdTech business is considerably promising in the education market.
The Future of EdTech Business
Interactive education, the core of EdTech
Technology has been essential to sustaining and transforming societies for years. Likewise, learning with technology will continue to transform educational practices.
Educators can easily utilize educational materials as well as try diverse teaching methods, making effective use of technology. And more innovative tools and approaches to education are constantly being developed, such as mobile education applications, collaboration platforms, learning analytics, and virtual reality. These approaches are beneficial to both students and teachers.
In particular, participatory interactive learning is considered an emerging technology in the EdTech business. The use of virtual reality and metaverse technology in education is gradually expanding.
"The introduction of virtual reality and meta-verse technology into education is incredibly exciting and will provide students with new immersive experiences that they have not seen before."

Nadim Nsouli, founder and CEO of Inspired Education
Changing Demographics and Consumer Behavior
In the past, educators tended to teach in-depth concepts before students mastered the basics. However, EdTech guides students to take class in a more relaxed and gradual way to organize their learning rather than 'cramming', ensuring that students are continuously making logical progress.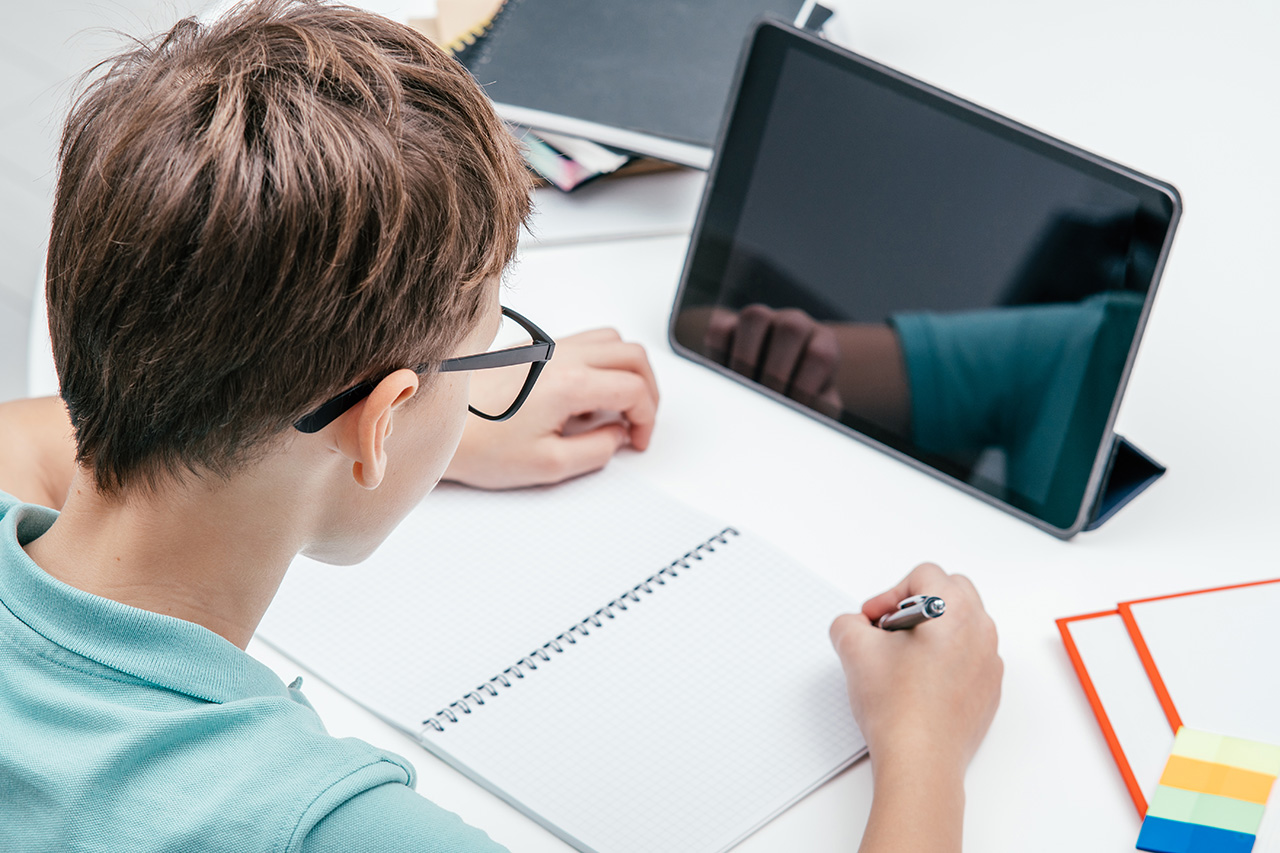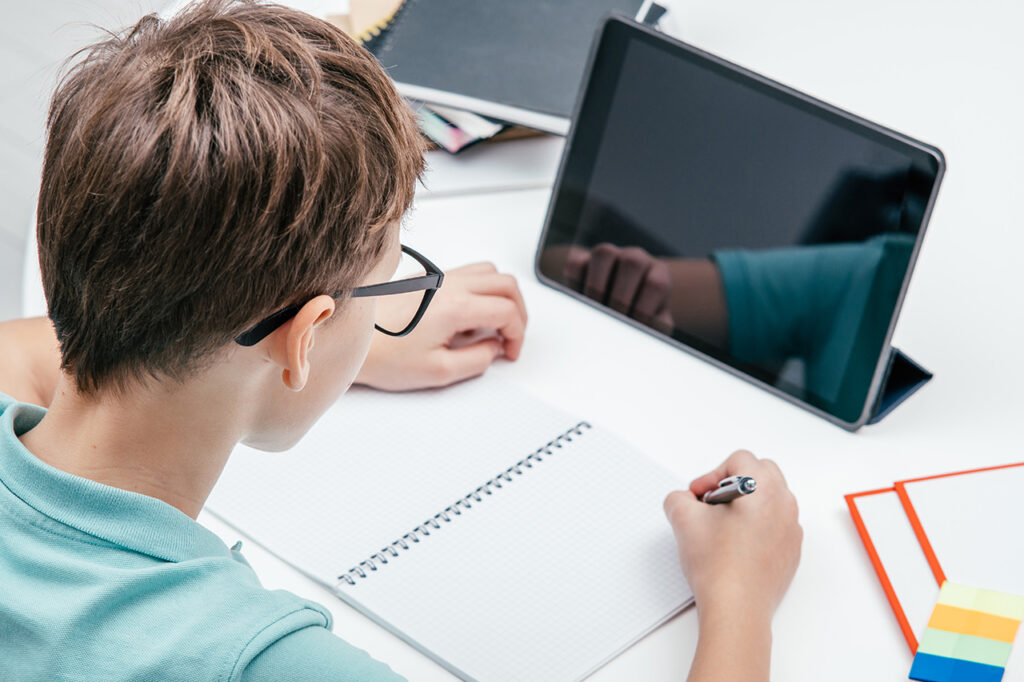 Kids are becoming more technically skilled as it becomes increasingly difficult for parents to monitor their children's online activities. With EdTech solutions, you can make your children's screen time more fun and educational.
How can children benefit from EdTech solutions?
Learn at their own pace, immersing in the class
Collaborative and fun experience through interaction with others
Allows them to choose preferred educators
Flexible approach scaled with children's abilities
Increasing efficiency in delivery of educational materials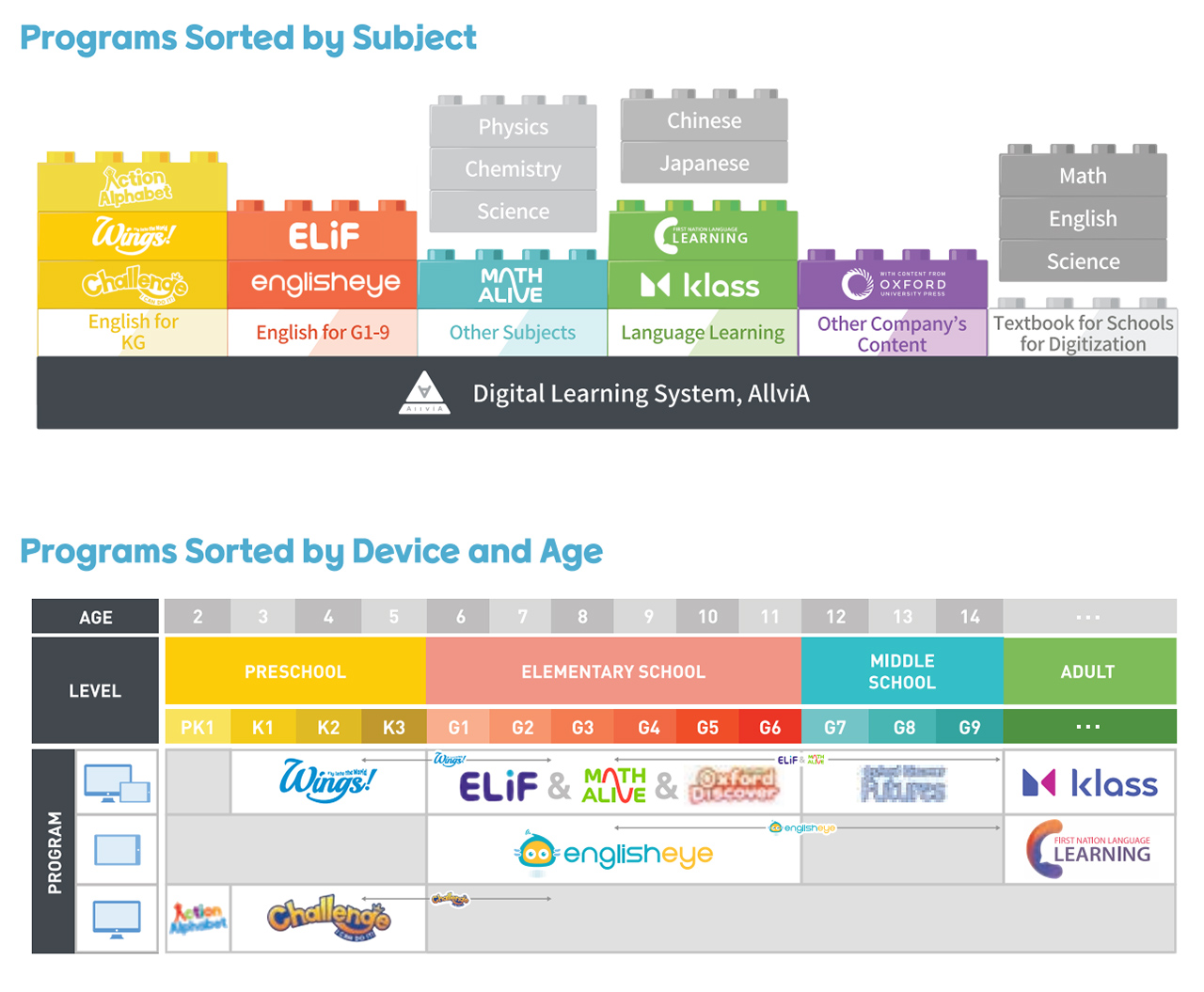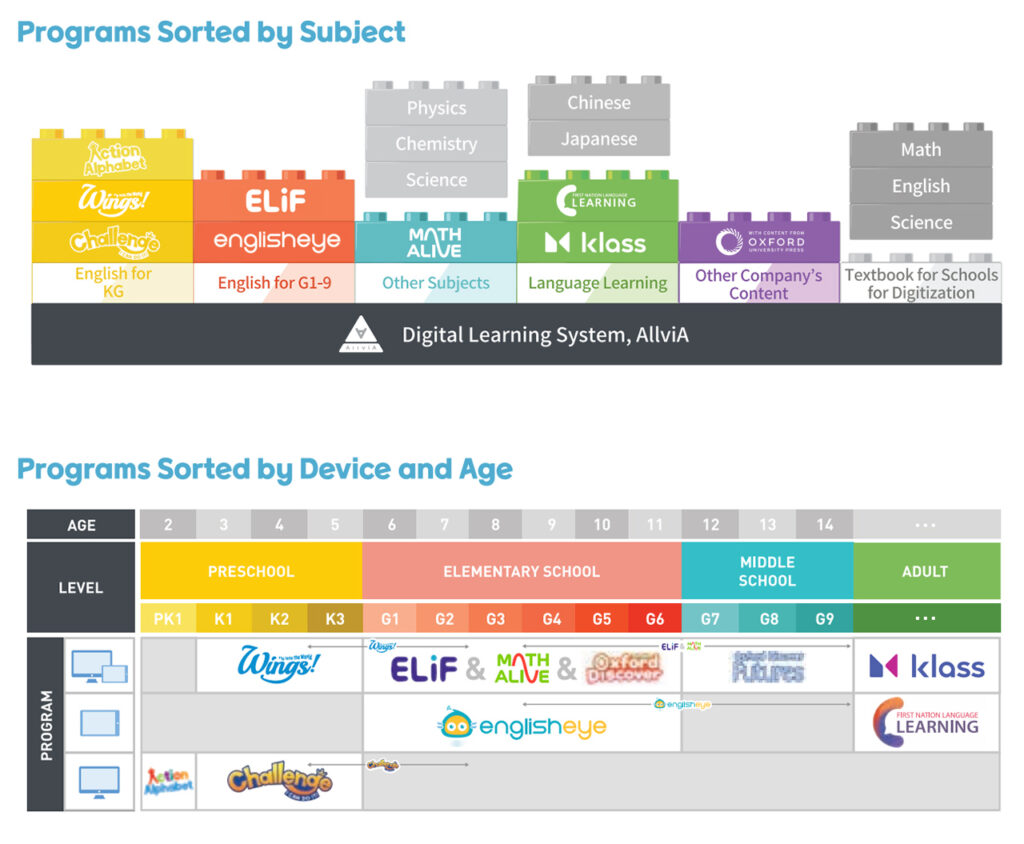 Trends of EdTech companies
Although many sites and apps are marketed for educational purposes, it is not certain whether they are actually beneficial to children's education or not. It is crucial to choose an educational solution at the primary and preschool levels. Below are some of the best EdTech solutions from AllviA.
ELiF
age 7~13
English education program for elementary
Interactive English training program
Using a tablet PC
Self-directed preparation course
Gamification program for review
Integrated education solution (Lexile test, etc.)
Math Alive
age 7~13
Mathematics education program for elementary
US CCSS-based digital math education program
Digital learning tools
Tablet-based interactive learning program
englisheye
age 7~13
English education program for elementary
Self-directed English education program
Local language experience with 1,400 story-based video contents
1:1 interactive two way class
Customized personal learning
Wings
age 3~5
English education program for early childhood
Interactive English education program using tablet PC
High student participation rate
Low teacher preparation burden
Challenge
age 3~5
English education program for early childhood
English education program using VR(virtual reality) and MR(motion recognition) function
Oxford Discover Futures
age 13~16
English education program for elementary and secondary schools
Oxford content based interactive secondary education program using whiteboard and tablet PC
Key success factors for EdTech Solutions
EdTech solutions that have received high-valued evaluation have five things in common.
Course designed to focus on student engagement
The EdTech solution is programmed with cooperation between media developers and professors, and it is designed to make educators effectively focus on the class and students actively participate in it.
Academic professionality development
Measuring student engagement is an indicator of a student's concentration level in class as well as whether they are taking appropriate lessons. Effective EdTech solutions strategically aim to maximize academic achievement.
Community
Communication is essential to creating a constructive learning environment and positive interactions. Likewise, it is effective for communication between students and between students and teachers, which needs to be encouraged because this is a way to develop a sense of community and increase educational outcomes in the learning process using EdTech solutions.
Class environment using data
EdTech solutions provide unique insights that are hardly utilized in one-sided classes. Data recorded by student engagement suggests how to improve instructional practices. In addition, EdTech solutions promote personalized education, respecting individual learning styles that can be tailored to the special needs of students.
AllviA suggests
VISANG EDUCATION, a Korean publishing company, has built an Interactive Class System (ICS) based on business competitiveness within the education industry. With the data, ICS tries to transform the existing educational environment into a better one. An educational method that enables individual assessment and diagnosis of individual progress can strengthen the motivation for class participation.
In addition, it helps educators strengthen their capability to design classes through the analysis of students class experiences and satisfaction surveys. Moreover, recommendations for customized learning material are available for the students by utilizing class data analyzed by student, group, and class. Ultimately, AllviA facilitates classroom management for teachers, improves the quality of learning, and completes interactive personalized learning.
How to choose EdTech solutions
The EdTech market has developed rapidly and dynamically with huge potential, and the market is ready to make sustainable growth as adoption of new technologies and shifts in consumer behavior in the educational industry continue. It is essential to improve the quality and reliability of education to maintain this growth potential, considering not only the development of technology but also regulatory issues.
If you select a K–12 EdTech platform, we recommend that you choose a product with interactive learning technology, as students often feel isolated while they are participating in learning. Research has shown that increased interaction in a learning environment can increase student engagement and motivation, leading to improved academic performance. AllviA provides an active, participatory learning environment through interactive communication training programs.