The EdTech industry is growing rapidly, and more and more educational institutions and students are turning to online learning and digital tools to enhance their education. Every EdTech vendor wants to increase revenue. In the past, increasing sales meant spending a lot of money on advertising and calling as many people as possible without paying attention to whether or not they were interested. Today's buyer is smarter and education technology decision-makers are no exception. According to an Earnest Agency report, 81% of customers begin their buying process by searching for information online. Therefore, the most effective way to capture their attention is to provide them with valuable and informative content they are looking for when they are looking for it. In this article, we present practical tips that resellers can apply to increase their EdTech sales to schools and educational institutions.
The importance of an EdTech sales strategy
EdTech sales strategies are the plans for how a company will sell its products or services to schools or other educational institutions. With the right strategy, you can achieve your desired sales goals, including target markets, segments, and pricing. As competition in the marketplace becomes fiercer, resellers must have a clear strategy to differentiate themselves from the competition.
For a successful sales strategy, resellers must understand their target customers, stay current on industry trends, build strong partnerships, and focus on customer success. The strategy also enables resellers to achieve long-term viability and profitability of their EdTech business. Accordingly, it is necessary to set financial goals and allocate resources effectively.
Important tips to increase your EdTech sales: 1. Market Study
Selling to schools requires a different process than most other IT solutions. If you're in the process of designing a sales strategy for the education market or looking for better ways to manage your sales team and improve their performance, consider these practical tips to accelerate your EdTech sales.
Know your market
Before you develop and sell your product, be sure to conduct market study and research. You should know who the potential buyers are because the market is filled with different types of customers. In the case of educational institutions, there are schools, colleges, training centers, and universities. If you look only at the school market, there are schools in different categories, such as government and private. Once you have analyzed these different segments of your potential market, you should determine the total number of customers in each segment and then analyze by geography. No matter how good your product is, you cannot reach the entire market. Therefore, you need to know the total available market and the total addressable market.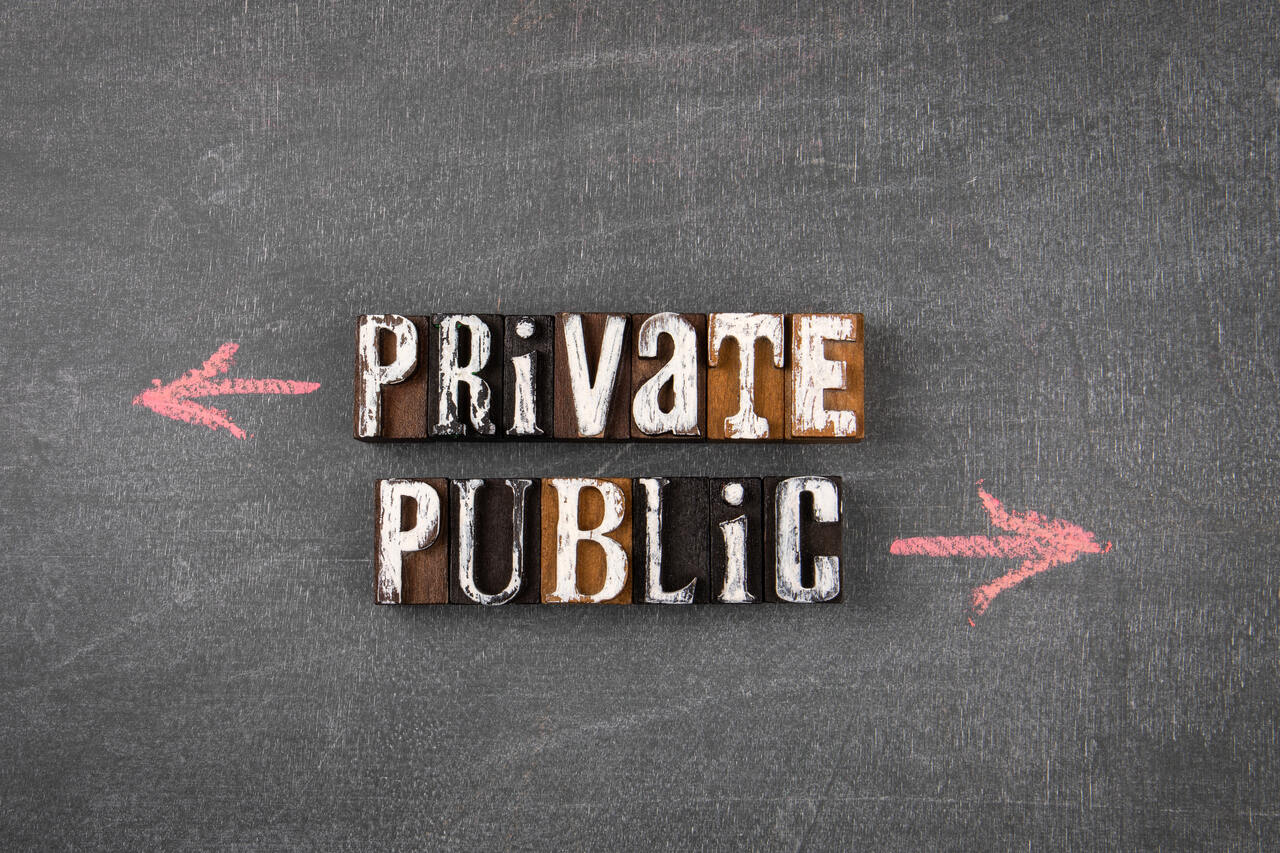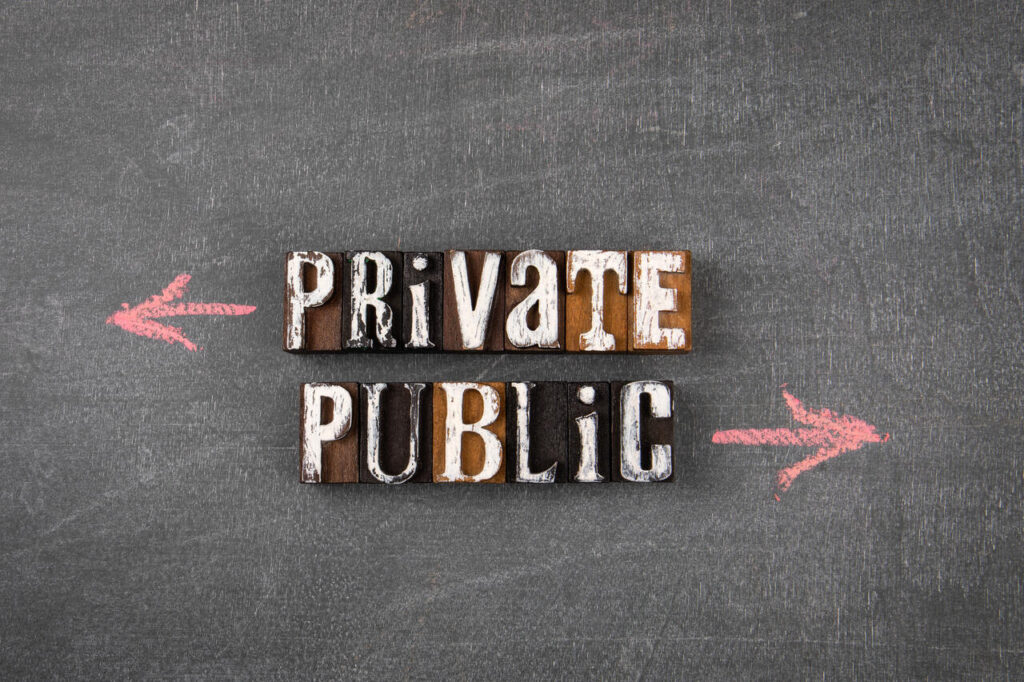 Know your product
It is equally important to know your product and solution well before you start selling. Understand the features and functions of the solution to prepare brochures and sales pitches. Talk to some potential customers to understand if the product fits the market, and use the information to improve your packaging and sales pitch. You will need to compare the product and solution to other vendors in the market. This will help you set a competitive price.
Important tips to increase your EdTech sales: 2. Target Study
Another important tip for increasing your EdTech sales is to understand the identity of your potential buyers. Assess your current customers and determine which customers get the most value and are most satisfied with the EdTech solutions you offer. Look for commonalities between these customers to understand which prospects are most likely to become customers.
Know your buyer persona and understand their needs
A Buyer Persona is an imaginary personality that reflects your potential customer who would have an interest in your EdTech solution. Do research to learn their roles in the company, their goals, and their problems. Once you have determined your buyer personas, it will be much easier to successfully target them to increase your sales. Schools and educational institutions are different from regular businesses. They need to review and acquire technology and curriculum for different grade levels, subjects, and populations. Make life easier for education buyers by introducing a product that aligns with the tools, systems, goals and curriculum they already have. Take the time to look in depth at their resources and introduce the EdTech solution as not just a good fit, but the perfect solution.
Research government funding
Almost all countries provide various government grants to schools and universities for the purchase of hardware or software solutions. There are a variety of funding sources, so it's important that you take the time to find the one that best fits your client's needs. Once you find a potential funding source, you can incorporate it into your sales strategy.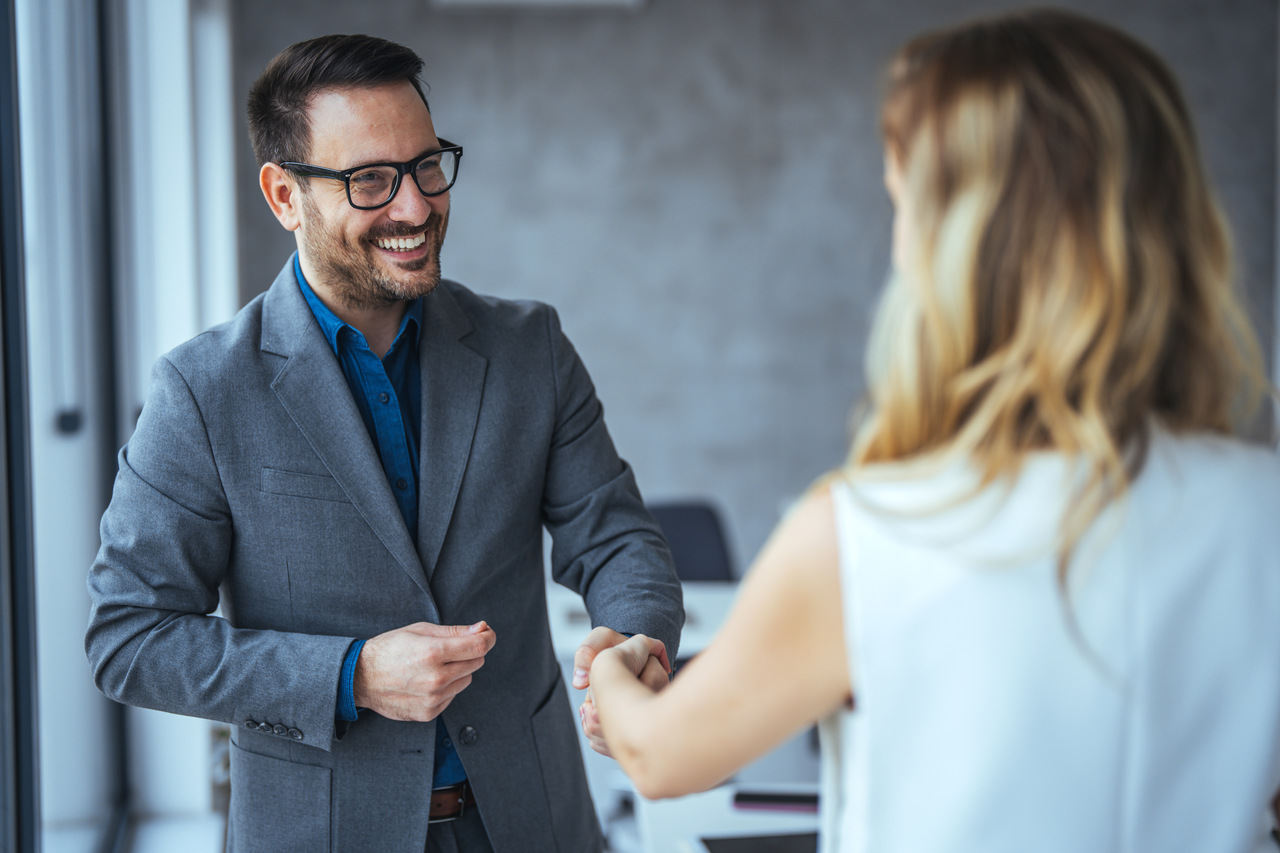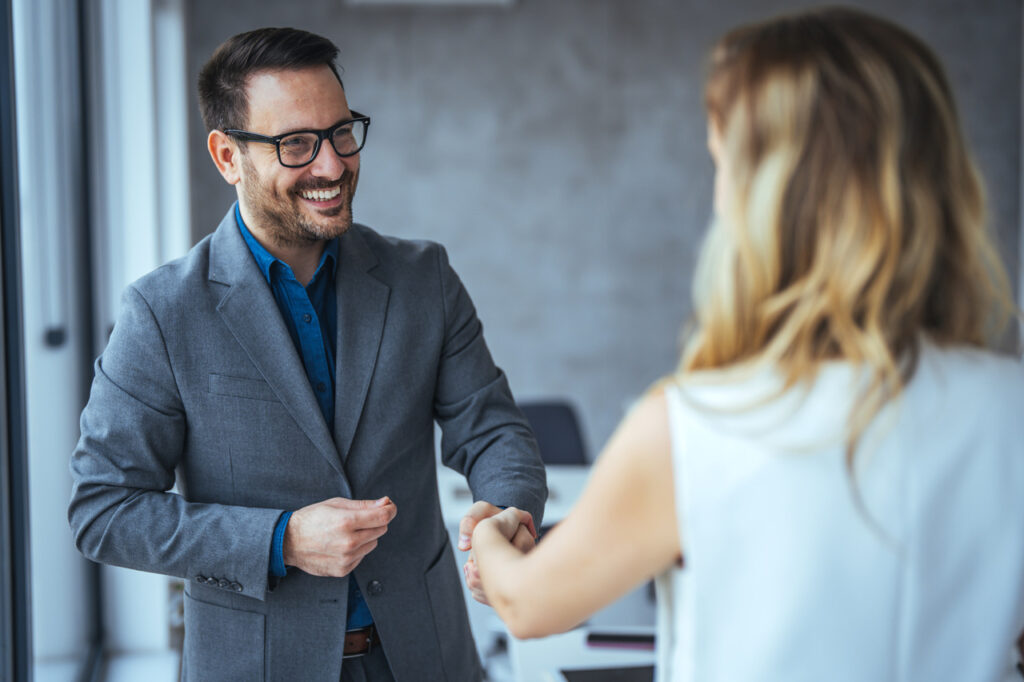 Listen and meet your customers
When selling, you should let your customer talk about their needs. You should resist the urge to talk about how great your EdTech solution is, but instead take the time to listen to what your customer has to say and how he'd like to incorporate an EdTech solution into the curriculum. Ask probing questions about their work, their schools, students, teachers, and most importantly, the problem you can potentially help solve. This strategy is about listening to really understand the person's problems and figuring out how you can help.
A school's hours are different from other businesses, and different stakeholders come to school at different times and days of the week. Do your research before you start the sales pitch, and improve your approach with the experience you gain. Selling to schools requires many face-to-face meetings. You'll have to travel several times to meet the customer.
Important tips to increase your EdTech Sales: 3. Data-Driven Decision
Another popular way to increase EdTech sales is to make data-driven decisions based on internal and industry trends. You need to incorporate various metrics and evaluate multiple detailed reports to make the decisions that will directly impact the company's revenue.
Make the ROI clear
Many district administrators need more than just a sales pitch. They also want and need to know what you will save them in terms of money. Investing in an EdTech solution is a huge investment, and administrators need accurate data on how much money this investment will save them in the long run.
Prove the solution's efficacy
In EdTech sales, data is everything. Administrators may be excited about the product you are offering, but if you can not show proof of its effectiveness, they may be hesitant to implement it. They may want to take a chance on something they are excited about, but are afraid that if it does not work, it will not work, and there's no proof that it does. You can show them how the EdTech solution has already been implemented and how successful it is with teachers and students. VISANG EDUCATION has over 25 years of experience in the education industry. We are considered one of the leaders in the smart learning market today.
Prepare an efficient pitch
Throughout the process, keep in mind that educators, school administrators, and board members may not be technology experts. Therefore, be clear and concise with the information so they can easily understand your solution and its value proposition. The brochures and sales pitches should be as simple as possible. Also, find out what problems your customer's product or solution solves and use those in your sales pitch. Finally, make the buying process easy and friendly for school customers.
Important tips to increase your EdTech Sales: 4. Engage and follow-up
It's important to stay in touch with potential customers through calls, emails, newsletters or visits. Provide value with each contact, such as information about trends, news about EdTech advancements, or testimonials about your solutions that they could use in making their decision.
Engage your customer
Talk to potential customers and engage your first customer as soon as possible. Make the maturity of the solution transparent to the customer. A real customer using your product or solution will give you a lot of feedback that you can use to improve your sales.
Follow-up with your customer
Follow-up is an important part of a successful sales strategy. Especially in the education market, you need to constantly follow up to close a deal. Practice cold calling and follow-up frequently, and use a good CRM tool. A CRM system can track leads, manage applicant data, and provide insights into applicant behavior. This information allows for personalized support, tracks student progress, and improves candidate satisfaction. With a CRM system, you can streamline your sales processes, increase productivity, and achieve better results.
Checklist for EdTech sales
Seize business opportunities in education
While educational solutions are more difficult to scale, there are many opportunities to scale the business of education. Schools and districts have many tasks that need to be completed on a regular basis, offering entrepreneurs the opportunity to improve efficiency or effectiveness with technology. AllviA is a platform with EdTech solutions that can be used in various classroom environments and are suitable for creating business opportunities in education.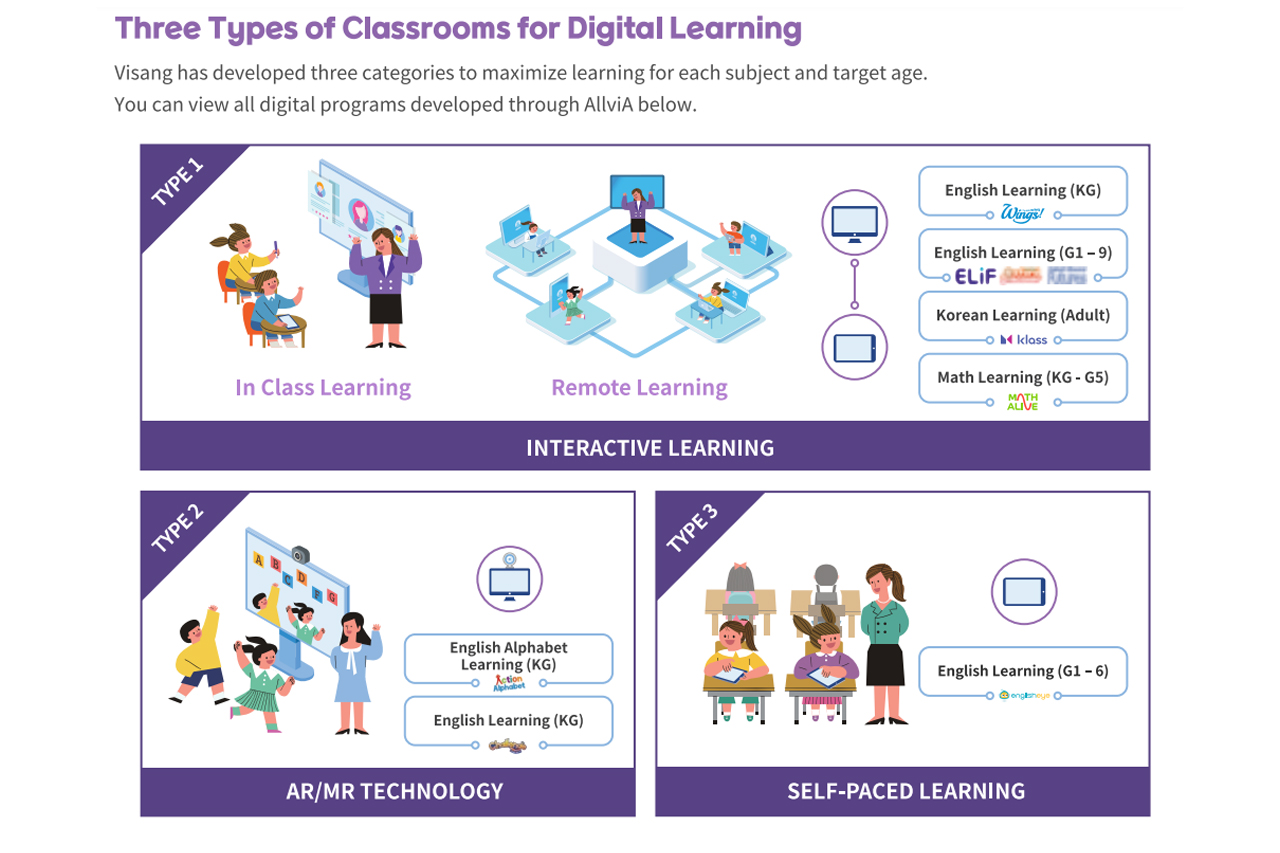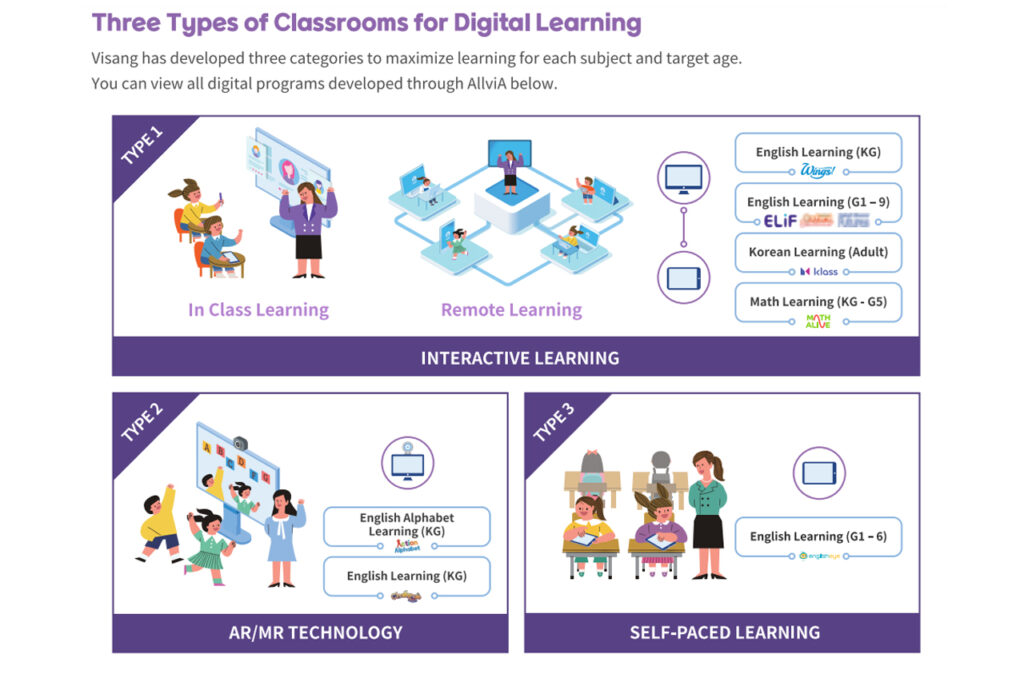 Focus on making your customers' jobs easier
Teachers and administrators have many different jobs, and their time is incredibly valuable. Do not increase the workload, but make the work of administrators, teachers, and students easier or more efficient. There are many ways technology can help them do their jobs more successfully with less time and effort. AllviA makes teaching more interesting for students and improves teachers' work efficiency through an interactive classroom system (ICS).
Find a ready-to-implement solution
Building an EdTech solution can take years of research and development. Educational-related companies, such as educational equipment wholesalers and publishers, may struggle to produce an EdTech solution themselves due to a lack of experience, technological knowledge, and understanding. VISANG EDUCATION's AllviA solution minimizes additional technical support because it is thoroughly prepared and ready to use immediately. In addition, after-sales support (A/S) is available. AllviA's partners operate educational businesses that emphasize the regional characteristics of their nation or home country and can target their EdTech business to their customers. Accordingly, many of our partners have achieved successful results with the AllviA solution.
The EdTech industry is growing at a rapid pace, with new innovations and solutions emerging every day. However, as competition in the industry increases, it is becoming increasingly difficult for EdTech resellers to stand out. First, you need to understand your market and the product you are selling. At VISANG EDUCATION, we provide our partners with detailed explanations and marketing materials about AllviA's various educational solutions and how they can help promote a smart learning environment in schools. Another important aspect to consider in your sales strategy is your buyer persona. You need to understand who your potential customers are and what they need. Then you can provide them with data-driven facts about how your solution will help them solve their problems.