In a traditional classroom, passive learning is limited to listening to the teacher's lecture or memorizing information, pictures, and materials. Today, however, it is common for students to actively engage in the learning process with the help of technology. Have you ever witnessed children not taking their eyes off their teacher? With Challenge's interactive educational courses, you can. This article introduces Challenge, an interactive educational solution for children developed by AllviA.
Introducing Challenge, an interactive educational program!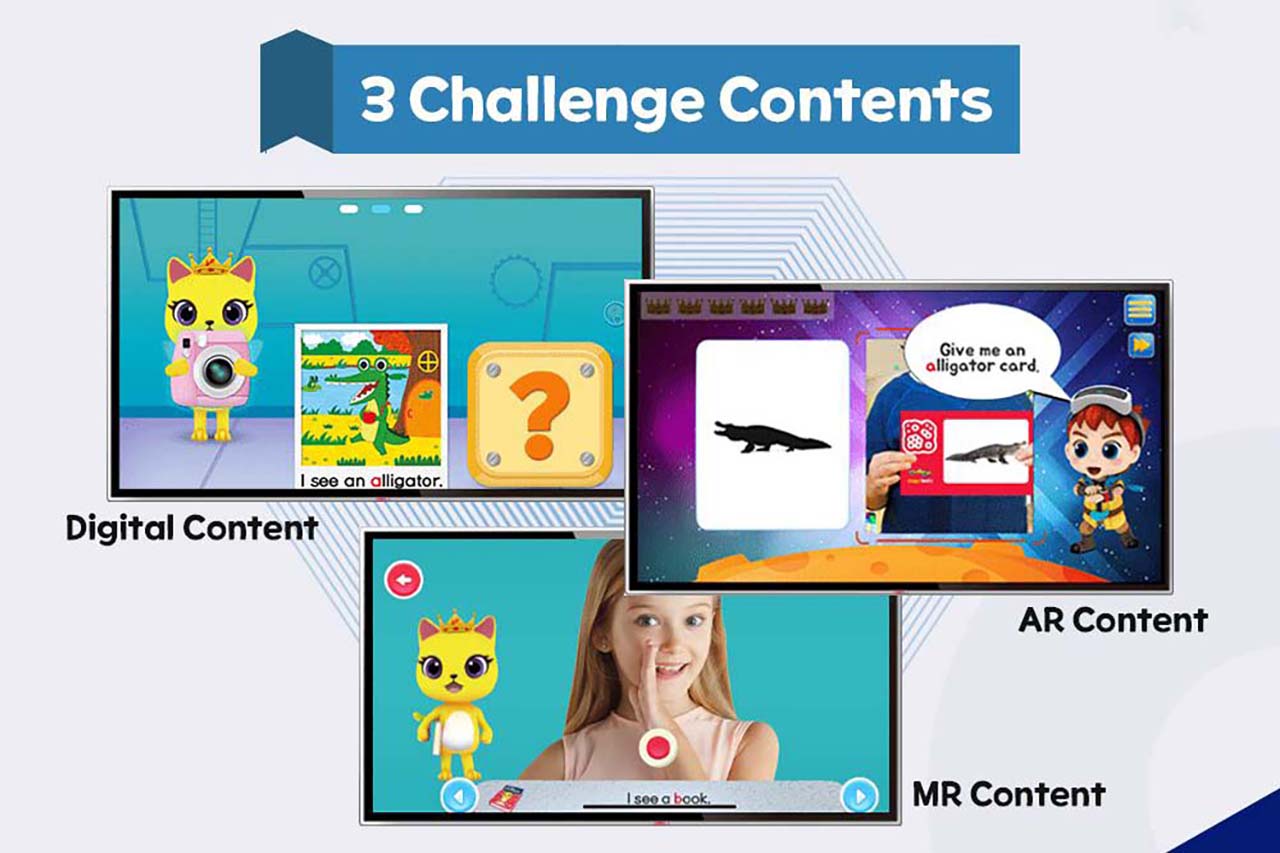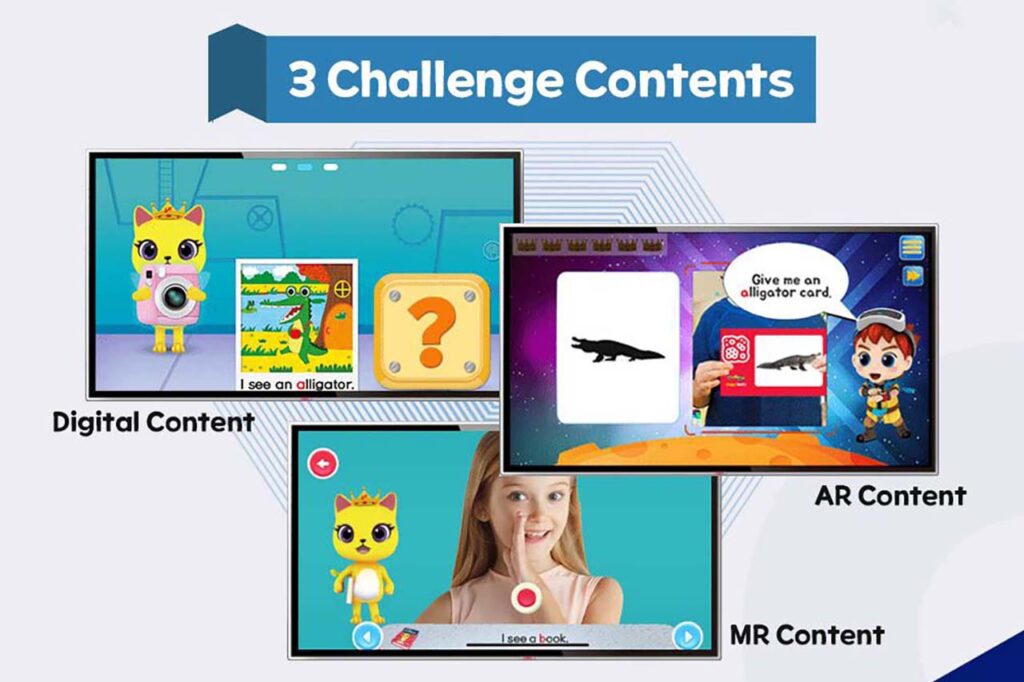 English educational program for elementary school students
The current teaching method is more like teaching English to beginners than teaching English to children. Children are taught basic English skills by discussing the best and worst moments of their day, their favorite games, and animals. However, even if the children are interested in the topic, they can get bored quickly. Moreover, memorizing and mastering grammar 20 times or more can be convenient for adults, but it is difficult for children in the first grade of elementary school.
If you want to teach elementary students English, you must find a teaching method for them. With this in mind, Challenge has created a curriculum that children in the classroom might be interested in.
Fun and active curriculum
Interaction with digital characters
Step-by-step phonics learning
Challenge is an integrated English language skill program for those who are new to the English language. Students develop a sense of achievement and enthusiasm through a challenging learning program that covers everything from phonics to sentence structure. In addition, various digital content helps build confidence in English while developing pronunciation skills like native speakers.
In addition, Challenge textbooks significantly improve reading and writing skills. Our textbook set includes 1 reading book, 1 practice book, 1 sticker book, 1 song poster, and an AR play kit. This book provides students with interactive lessons with fun activities and quizzes. They can also actively practice writing while independently reviewing the lesson material.
Challenge offers a three-step program based on a spiral and interactive curriculum. The goal of the Challenge program is for students to develop skills such as phonemic awareness and phonics, listening comprehension, and speaking fluently. It also helps students build reading and word recognition habits through fun activities such as stories and vocabulary exercises. Below is a brief summary of the Challenge program curriculum: see the syllabus for details.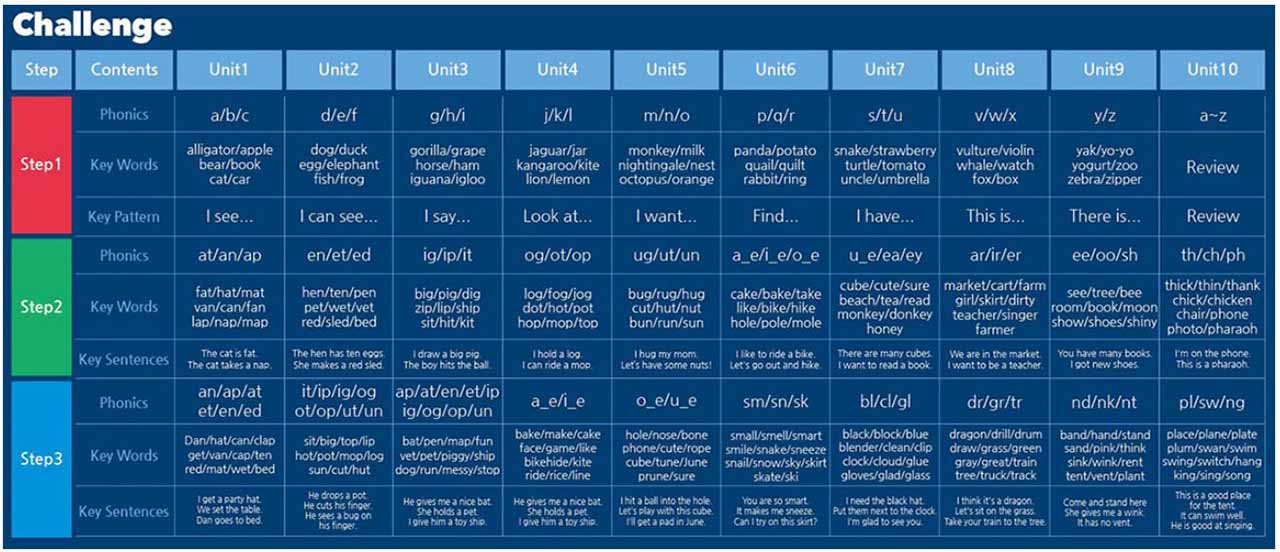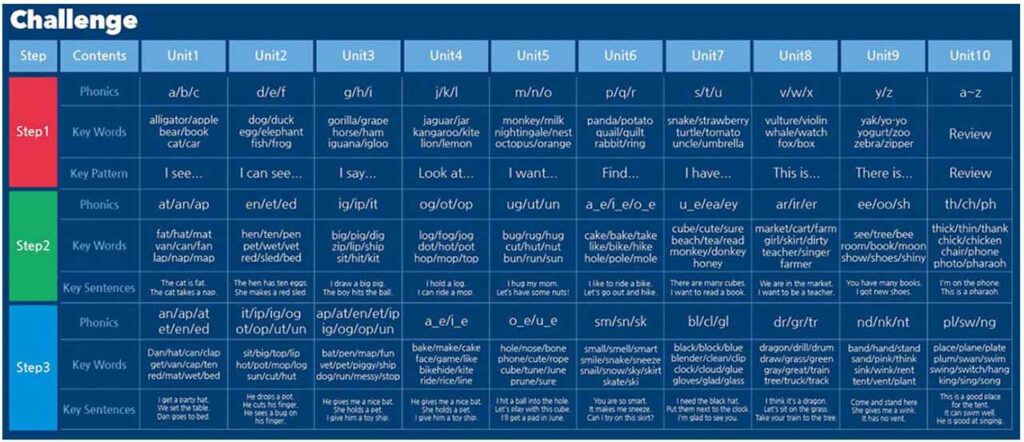 Step 1: Ready to Read. 100 words and 60 sentences, learn the basic alphabet and phonetics
Step 2: Ready with Help. 150 words and 90 sentences, understand short and long vowels and consonant digraphs.
Step 3: Ready Alone. 200 words, 120 sentences, review vowels, and consonant blends.
Creating active class engagement with AR/MR content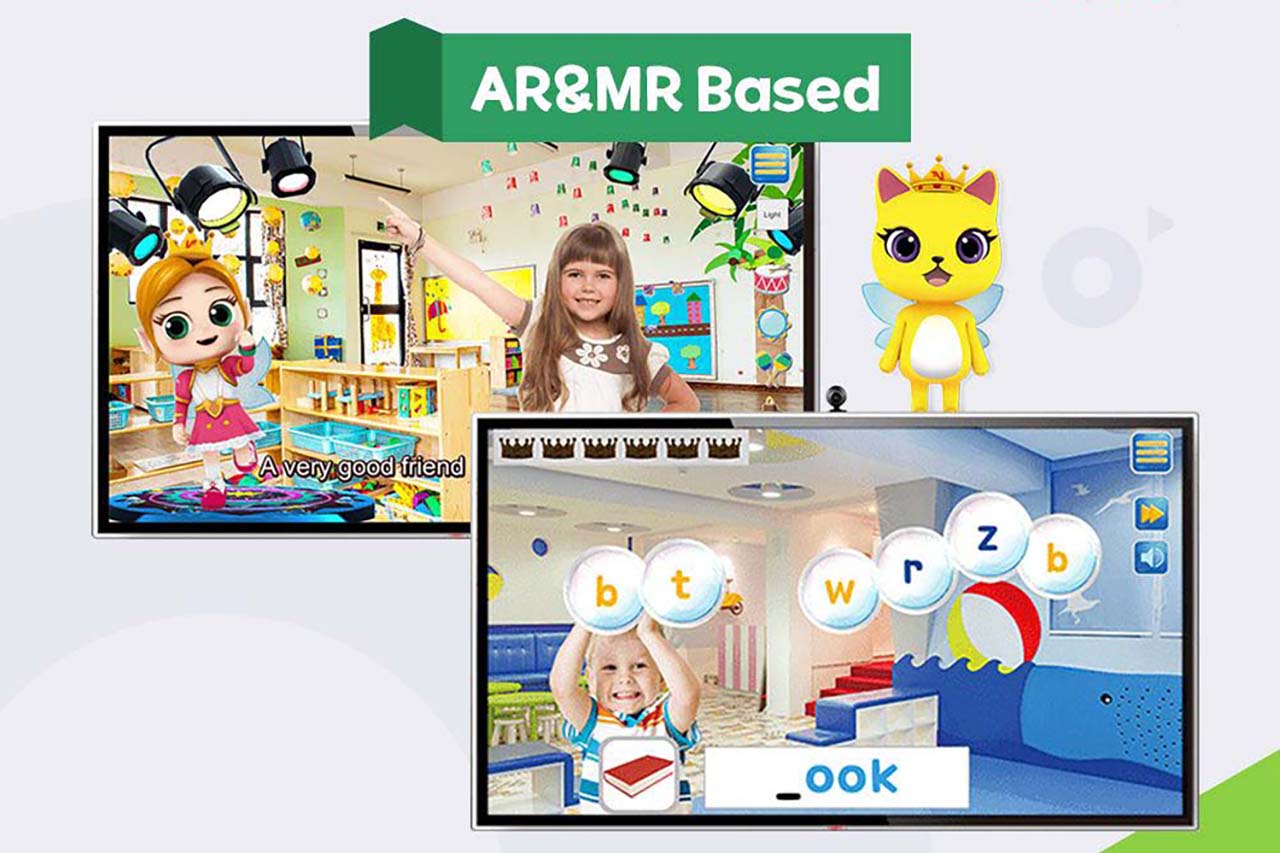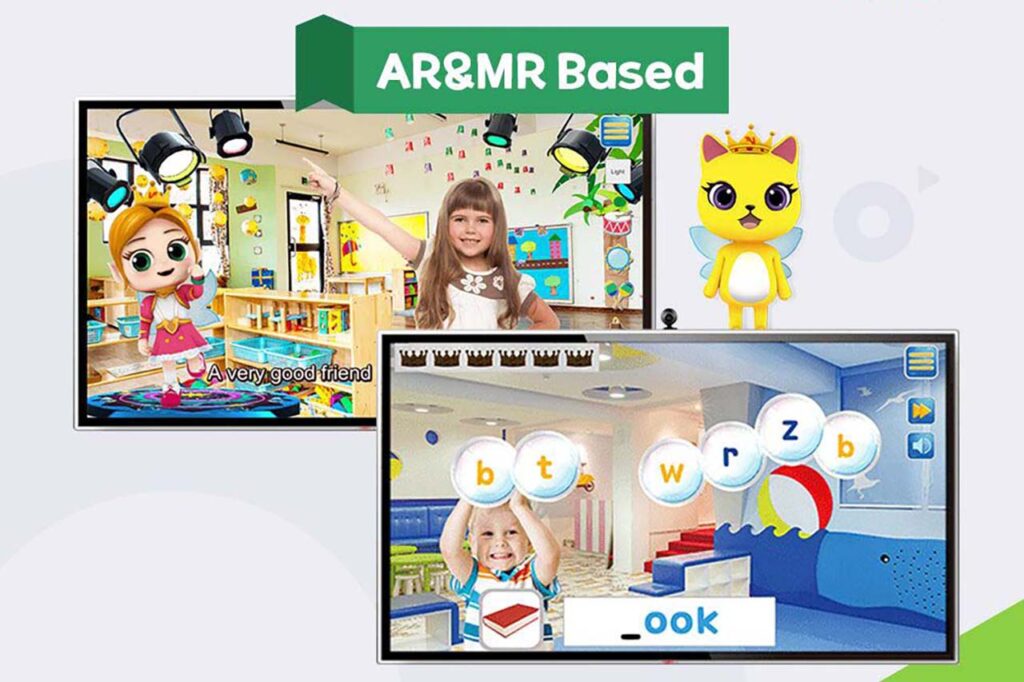 Every year, software engineers and developers work to develop the latest technology for use in the classroom to enhance the student learning experience. Teachers around the world are using these educational technology tools to improve many aspects of education. In this process, the use of AR and MR for interactive education is gaining more attention.
AR (Augmented Reality)
Augmented reality is a system that enhances the real world by superimposing virtual information. Various devices such as cameras, GPS, and sensors are required to implement AR.
MR (Mixed Reality)
Mixed reality is a technology that lies between AR and VR. MR is a technology that creates a new world by connecting the real and virtual worlds. MR has a more natural interaction with the real world than AR, and you can see more of the real world than VR.
Through the use of videos, digital images, PowerPoint, and online games, teachers have been able to provide a rich learning experience for their students. AR/MR can use a wider range of technologies to enhance student interaction in the classroom. This type of content is also popular with students because it adds a creative and modern element to learning.
Challenge contains fun, MR-based content that encourages engagement. With Challenge's extensive collection of MR materials, students can immerse themselves in the classroom and engage in a variety of activities that build their creativity, confidence, and physical agility. The challenges are structured to make learning fun and practical. Below is a preview of various MR Challenge content!
Word quiz: Solve a word quiz with animated characters.
Masquerade: Practice your speaking skills through role-playing and acting based on characters in the story.
Board game: You can play a board game that requires you to stretch and twist your arms and legs to form letters and learn the English alphabet.
Phonics game: Pop bubbles while learning phonics and vocabulary.
Music on stage: Sing and dance with the characters on the screen.
You can also interact with the Challenge characters and enjoy fun activities in the classroom or at home. AR programs make the characters come to life and interact with students. Teachers and children can communicate with each other and experience interactive lessons. Challenges feature both 2D and 3D graphics that dance and move.
AR Coloring: Color your characters and watch them come to life!
AR Reading: Read stories with characters
AR Speaking: Students can practice speaking by recording their own voices. Parents can hear the children speak to the characters in the story in English.
AR Camera: Students can take a picture with the characters they have collected.
AR Quiz: Play a word review game and find the picture that matches the word!
Introducing the Challenge Pilot case, an interactive educational solution.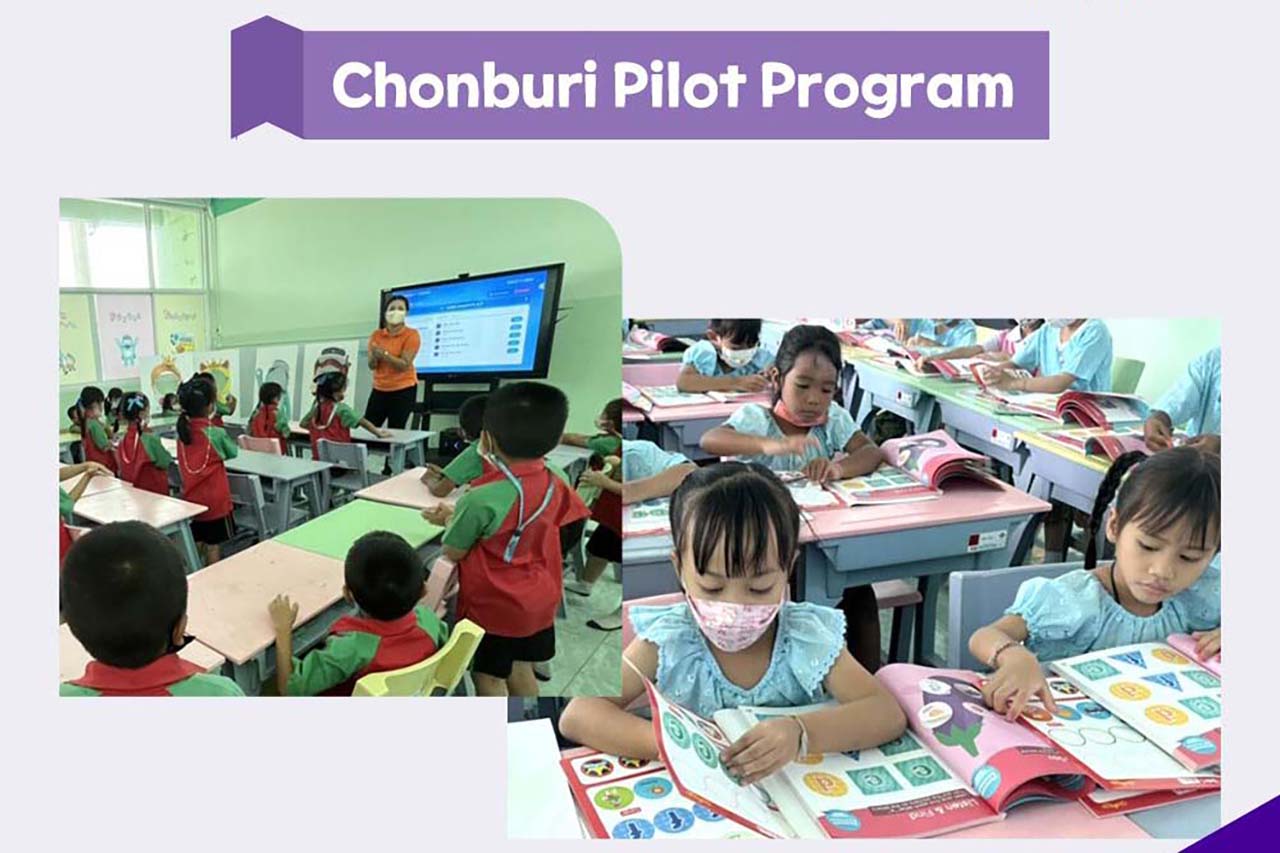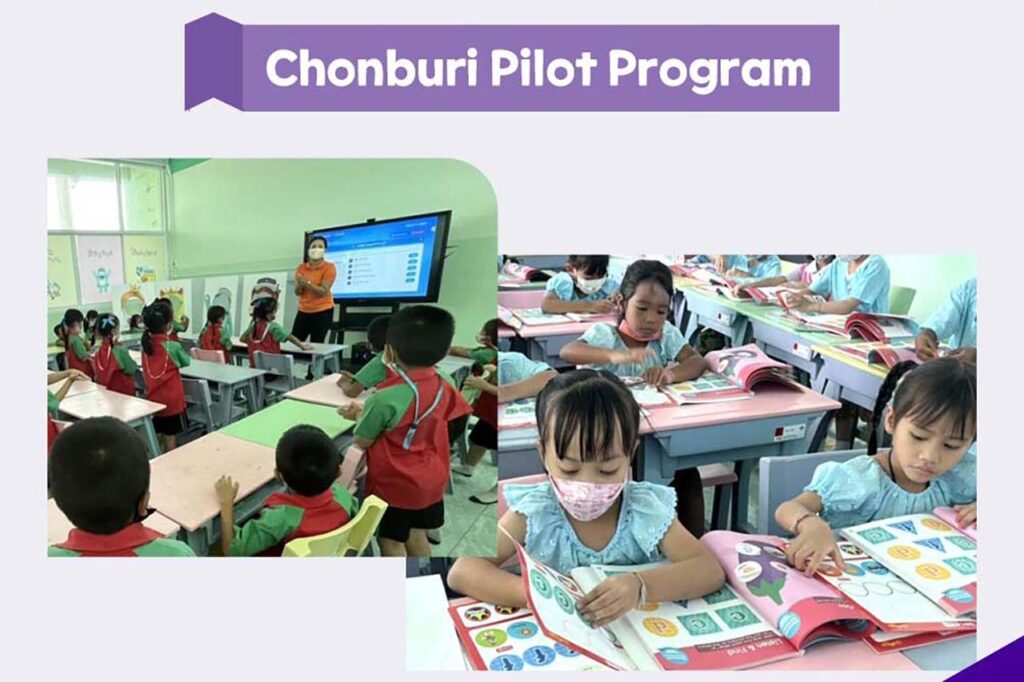 VISANG & VAN YANSUE Elementary School
VISANG EDUCATION introduced Challenge to Ban Yansue Elementary School in Chonburi, Thailand. On March 2, Challenge's pilot program was successfully completed at Ban Yansue Elementary School, a public school in Thailand. The students learned English through interactive education with Challenge, assessed their writing skills at each level, and evaluated their performance.
Students were able to learn English happily while playing using AR. They participated in a study program that allowed them to effectively learn the language through various activities and not just by reading a textbook. The principal of Ban Yansue Elementary School, who participated in the pilot program, said: "We hope that the Challenge program will be a fun and effective interactive educational solution in the future," adding that more participants are expected to improve their English skills.
During the pilot program, parents also had the opportunity to watch. Parents were able to see firsthand how their children were learning English. Participating parents also expressed great confidence and satisfaction with the Challenge program's interactive curriculum. VISANG EDUCATION will continue to use advanced technology to provide better learning for parents, teachers, and students.
Interactive education: The core of English education for children
Children are sensitive to visual stimuli and desire new, interactive learning experiences. Interactive educational methods are very effective in meeting these needs.
First of all, interactive educational methods increase the activity of the learning process. Unlike one-way lectures, interactive education allows students to participate, solve problems, and express their thoughts. This method is very effective in promoting students' creativity and problem-solving skills.
In particular, introducing AR/MR technology into an interactive educational method can have a great impact. AR/MR technology allows students to experience a virtual world similar to the real world. This allows students to gain a more specific and clear understanding.
The interactive educational method allows students to interact and increase their interest and motivation while learning. Students not only actively participate in learning, but also have a sense of achievement and self-confidence. If you want your children to enjoy learning, you should use interactive educational methods and AR/MR technology with AllviA's Challenge program in the classroom. We are confident we can provide you with an exciting and challenging learning experience.